So much has been happening I haven't even been able to keep up with it! And tomorrow we're scheduled to have something like 26 inches of snow (16 during the day and another 8 - 10 inches tomorrow night). Knitting has been happening, some out of necessity....
I finally wrote up the pattern for Jackie's Acorn - the winter dog-walking hat that I made for myself with Noro Silk Garden that my friend sent me from Seattle:
And no sooner had I done that, when I lost the hat! I think that it was in my lap when I slid out of the car last Saturday in front of the lower door to Macy's at the big Mall, because that's the last time I remember having it. When I went to use it that night, it was no where to be found. But, sadly, no one at the Mall customer service had seen it and one of the wonderful people from the Manchester Knitting Group even drove by the parking lot to try to find it...
So, I had to knit another this week; Jackie's Acorn Two: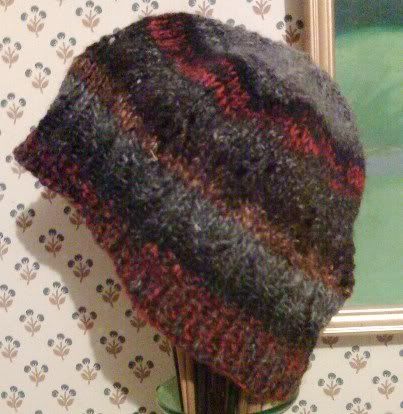 Of course I like the first one best, especially since the yarn was a gift from a really good friend, but its great to have a hat again after a week of cold ears! The skein of Noro that I got for this was unfortunately flawed - it was knotted right in the middle of the skein with no regard to the colour sequence. So instead of the light brown to mid brown to deep chocolate brown, I got one 3-row stripe of mid brown and then right back to the grey again. You do take your chances with Noro!
The Socks That Rock KAL for Leyburns (on Ravelry) is still going strong (I think we have 200 people in this knit-along) and I've finally finished mine! (well, they're actually for a gift)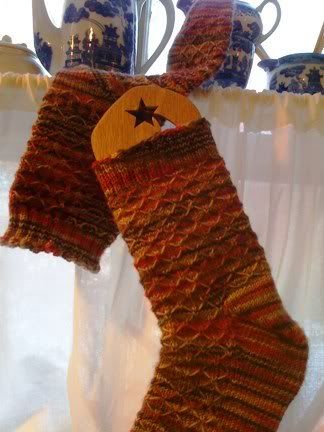 This yarn is BMFA Socks That Rock in Petroglyphs, lightweight, on a 2.5 mm needle. I knit them toe-up, with a gusset heel (no wraps) and used a shell picot bind off that I made up on the spot because I couldn't remember how to do the one I was thinking of at first. It turned out to be a nice stretchy edge...
Here's a good look at the colour and the heel: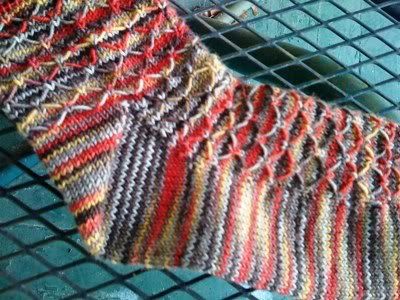 Now I am finishing up the foot on a pair of fancy long 16th century stockings for Plimoth Plantation. If I end up staying home tomorrow because of the snow, those will be finished too!