My computer crashed just before Christmas, so I never had a chance to post about the things I was making!! The good part is that I can show you the finished views instead of the WIPs :-)...Knitting Madness…
This is a scarf I made for my friend Rose from a fancy mohair yarn with metallic sparkles. It only took a couple hours to make. It's just CO 11 with Garter Stitch. When I finished, I threaded a matching ribbon yarn through it from end to end in random places and then used both the sparkle mohair and ribbon yarns in the tassels:
This scarf took a LOT longer! It's a hand-dyed lace weight merino in subtle pinks and roses – you can't see the colours very well in the photo. This was my first try with lace knitting and I had to frog more than once! The pattern is from my LYS, but it says on the pattern that the lace design is from
Mary Thomas Knitting Patterns
so you could find it. The cast on was 41 stitches with 3 knit st at each end to keep it from curling and three knit rows at beginning and end to make that scalloped edge.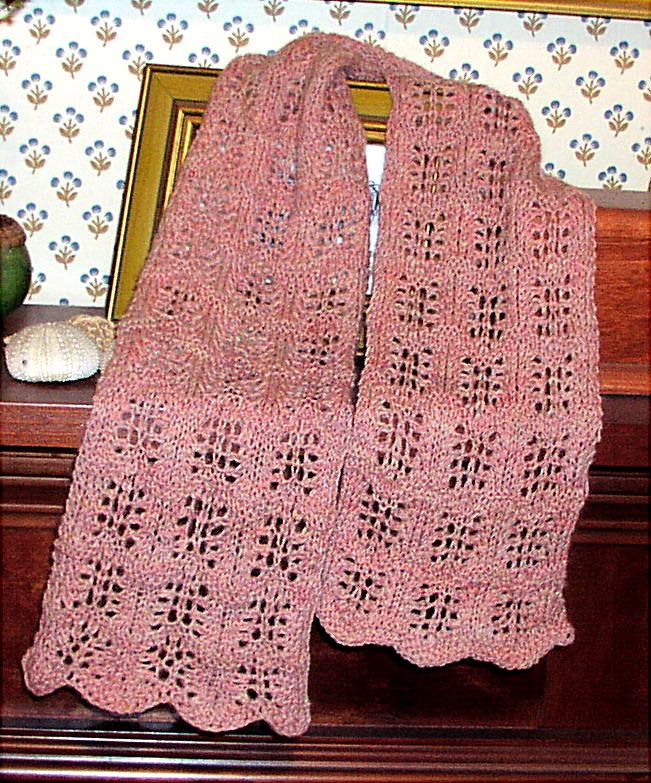 This is my favorite scarf – it was for my sister's BF John, who is the lead for the band Terrene (www.terrene.net) . Isn't he cute in it? The picture was taken at Tealuxe in Boston yesterday. The yarn was a hand-dyed thick yarn (Malabrigo)I got at the Windsor Button Shop in Boston some time ago. It's a mix of beautiful browns, black, and dark green. I used a simple 24 st CO and k2 p2 until I used up the whole ball.
Here's a better photo of the colours of the yarn: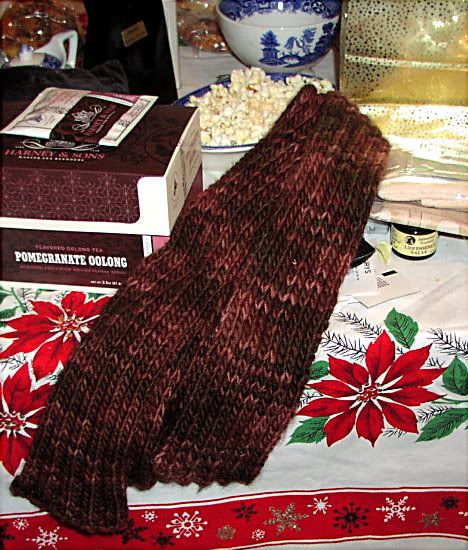 I started to make a nice black sweater for my sister, but didn't get further than the back, so I packed it in a box with the picture of the pattern. She thought that was great and laughed and said "An open-ended knit project! Great!" But I wanted to give her something finished too, so I quickly made these fingerless gloves. The yarn is the same type as the brown scarf, only with variegated light blues, and the lacy part at the beginning is the same lace pattern as I used on the pink lace scarf because when I got done with that it was indelibly burned into my brain LOL! Then I just K2 P2 until with was the right length and sewed up the side leaving a hole for the thumb.
But the very BEST thing of all was what my sister made for me for Christmas! This is a cover for my Gameboy Advance SP! It's an owl (obviously) and the eyes, which don't show up very clearly in the photo, are vintage glass swirl-y buttons! I love it very much. She also gave me "Harvest Moon More Friends of Mineral Town", which I've been playing non-stop.
She's really creative! While she was here, she made a pair of lacey fingerless hand warmers and a cover for her new i-Pod.
Well, that's everything so far…. Now to finish the sweater and hopefully make some sock gifts for friends