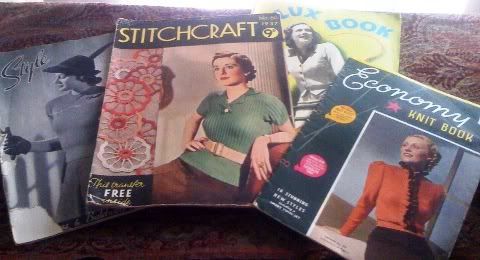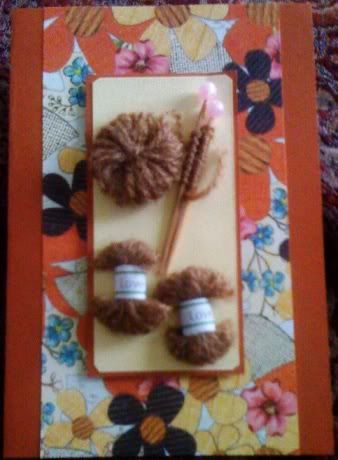 A final wonderful birthday package arrived on my doorstep, from my friend in Australia! I love the pattern books and ephemera that he sends me so, so much! These booklets are from the late 1930's through the very early 1940's.
This Stitchcraft No. 60 from 1937 is a great example of how knitting styles were becoming more sporty and suitable for everyday wear.
A belt and a hat made a knitted blouse or sweater "office wear" while a pair of trousers or shorts made that knitted sweater just right for the weekend...
I love the little neck bow on this one, and it's always the details that charm me: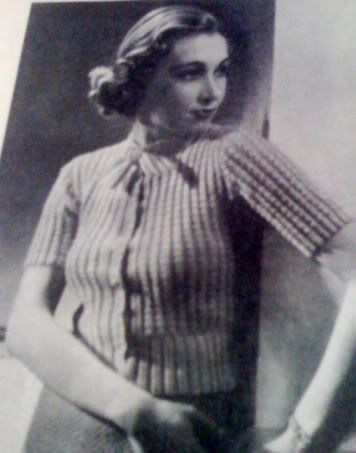 Stitchcraft features several crafts, as well as lots of knitting patterns and this magazine still has it's embroidery transfer inside. There are recipes (ham loaf served with beans and sliced boiled potato - a regular starch feast!), sewing tips, and other crafts. This style page is called "Knitted by the Sea" by Anne Talbot and the designs are all knitted, even the suits and coat: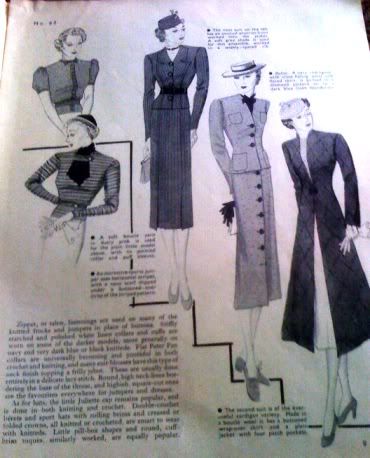 It's only meant to show the reader what's in style though; the patterns aren't included, sadly. The top blouse in the picture is described this way:
"A soft boucle yarn in dusty pink is used for the plain little model above, with its pointed collar and puff sleeves"
and the cute striped one says:
"An attractive sports jumper uses horizontal stripes, with a navy scarf slipped under a buttoned-over strap of the striped pattern"
But Ms. Talbot's description of hte fashions of the that summer of 1937 are particularly charming, so I'll quote just a small portion of here for your review:
Deauville, Le Touquet, and other Channel resorts are now crowded with smartly-clad Parisiennes and fashionable cosmopolitaines. In the fifteen years that I have been going to Deauville and Le Touquet I have noticed a very gradual, but markedly definite, change in the type of informal costumes work by the "smart set." These daytime clothes have become more practical and more "sporting" in every way. But what is of most interest to readers of Stitchcraft is that the importance of knitwear can scarcely be exaggerated. Knitteds have become so essential to the holiday wardrobe that no fashionable Parisienne would dream of being without a variety of models.
For very hot weather there are lovely, fine linen and cotton threads, delightful for both crocheting and knitting. Synthetic threads, such as artificial silk and kindred substances, are likewise very cool and when mixed with wool, as they so frequently are, make most practical and beautiful yarns...
The next booklet is Style, by Patons & Baldwins, Volume 7. The corner where the date was is torn a bit, but it definitely appears to be from the same late 30's time period. Note the charming Robin Hood hat!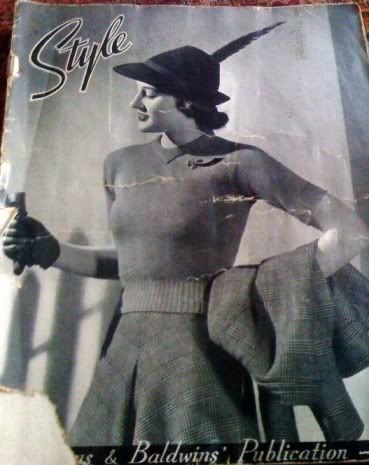 In some ways, the fashions of that time were like costumes - the cosplay of the 1930's! And here's a jaunty Sailor style from this booklet: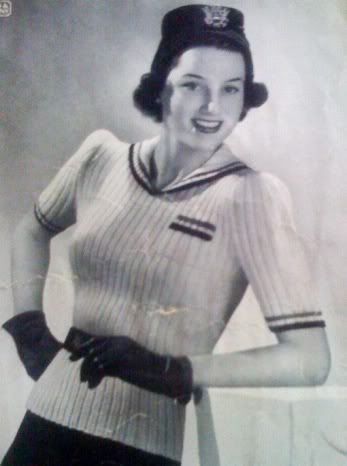 This blouse is cute with its ruffled collar, big puffed sleeves, and little cables... it's called The Charmer"
The next booklet I'll review is called "The Economy Knit Book - 18 Stunning New Styles." from Woolworth's.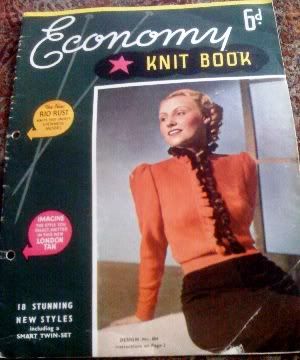 I have a couple of very old Woolworth's knitting books and they are so wonderful! This one is no exception, and appears to be from the early 40's when this style of slightly military-looking cardigan jacket was popular: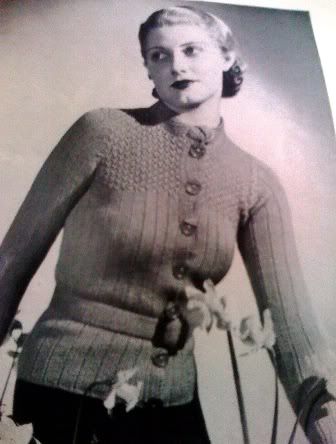 This booklet is unique in that throughout the booklet the knit patterns are modeled by contemporary Hollywood stars! It's so adorable, with pattern titles like:
You'll Look Ultra-Smart in this Jaunty Viennese Model
Imagine This Unusual Puff-Sleeved Style in Three Colours
Stylish for Weekends - Smart for Business Too!
When You Get That Cruising Feeling!
This Will Look Very Sweet on You
Look Lovely on Your Next Holiday - Here's How!
Knit This for Lots of Use in the Snow Country!
Here is the Woolworth version of the Sailor Suit, with the title, "
Announcing the Roly-Poly Neck - Present American Craze!
" The placement of that little sailboat applique certainly ensures that it will bob up and down on the the...erm...waves, doesn't it?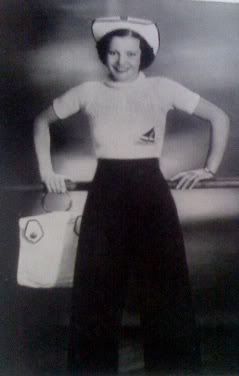 Some of the movie stars are Frank Forest (Paramount Studios), modeling "The Favorite Sweater of Men About Hollywood"... Binnie Barnes (Universal Studios), "Introducing a Smart Twin Set"... Nola Warren ("Australian Film Star")... Eleanore Whitney (Paramount Star) "Shows How to Hike in Chic" (though it's hard to believe that she's going to hike in that outfit!):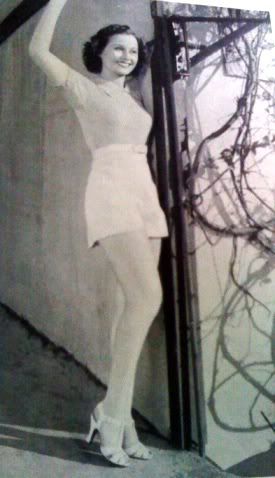 The final booklet for review is the Lux Knitting Book for 1937. This is a fabulous booklet, one of series put out by the Lux Soap Company.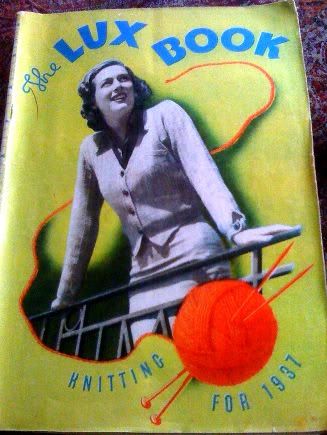 The booklet is 61 pages and along with the black and white photos there are funny and delicate pen and ink drawings of the knit-wear in use, drawings such as you find in the more expensive knitting magazines of that era!

There's something for everyone in this book - men (that chapter is called "Manly Comforts"), women, children, babies and teens...even tea cosies for the tea table!
The undies are always cute, called Warm Beginnings, but I always wonder how someone could wear Shetland wool next to their skin?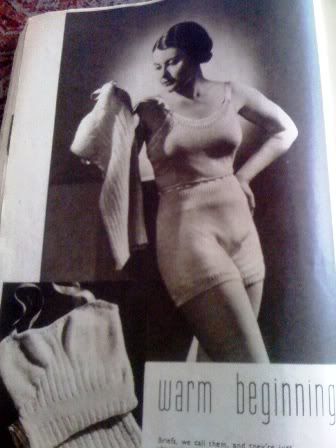 There is fashion commentary here, too, titled Front Page News in Knitting: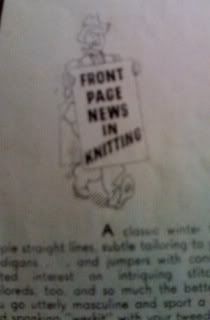 "The editor of this book has been in consultation with the Knitting Editor of Vogue regarding the very latest ideas in knitting and crochet"
So interesting, that little note at the bottom of the fashion page. How do you suppose it happened and what does "in consultation" mean? Do you suppose they 'took a meeting'? How about a phone call? I would have liked to have been a bird on wire overlooking that conversation! In any case, here is what came of it:
A classic winter this, simple straight lines, subtle tailoring to your cardigans... and jumpers with concentrated interest on intriguing stitches. Tailoreds, too, and so much the better if you go utterly masculine and sport a trim and spanking "weskit" with your tweeds - or tuck a man's paisley hankie in the neck of your jumper. For the Rest, keep your neckline up and inflate your sleeves a little at the top.
And yet, the styles in the book are distinctly feminine - more so than in the other three magazines!
This gathered, dolmen-sleeved blouse, for instance, dramatic and soft:
My favorite, though, is this bed jacket and I'm determined to knit it for myself:
It's called Snug Simplicity because it is such a simple pattern. The shape comes from the way the knitting is put together. I can't quote the pattern here, because it is not old enough to be in the public domain, but I can give you some hints!
This is knit in a silk and wool blend (British 2-ply) on 7 mm needles for a size 34 bust. The two pieces are garter-stitch knit in two separate rectangles (with a 15 stitch slit at the central point of one long edge on each rectangle to form the collar) and then half of each short end is sewn to the other in a clever way to form the back, the turned-back collar, and then the sleeves are folded over and sewn.
My final treat in this wonderful package was tucked into one of the books - a Lili Knitting Card for another bed jacket!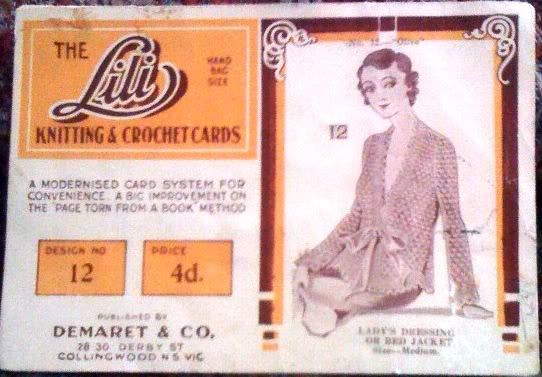 This is described as
"a modernized card system for convenience. A big improvement on the 'page torn from a book' method"
The pattern itself would make a great cardigan for summer!
What a super birthday box, wasn't it!?!