Remember this?
It is now this!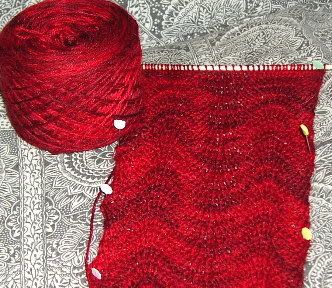 The Chevron Scarf from Last Minute Knitted Gifts, with the properly All HAllow's Eve name of
Exsanguinate
... because of the Ruby River (of blood) yarn and the way this variation on the traditional "Feather and Fan" stitch mimic a slow flow of human lava.... "oooo...eeeee...oooooo"
Its amazing how a certain pattern can make a yarn sing, while another is just destined to end up in the thrift store or charity shop. Matching the yarn to a pattern that marries well is one of the most fun things about knitting.
When I first started a scarf with this sock yarn (Mountain Colours Bearfoot), I knew I wanted a feather and fan stitch but in an effort to work it quickly, I wound the two skeins double and used the traditional YO method. The result was a chunky, awkwardly thick and formless stretch of muddled fiber. Nothing like what this yarn with its deep dark heartbeat was capable of.
It was only after viewing several bright, harmonious examples of the Chevron Scarf that I began to think that a solid feather and fan stitch might work with this yarn, used singly as it was meant to be, giving it a perfect rhythmicly draping structure. I think it worked.
Only 24 inches to go!
My next delightful challenge will be finding the perfect patterns for these beauties, gifts from my friend in Germany: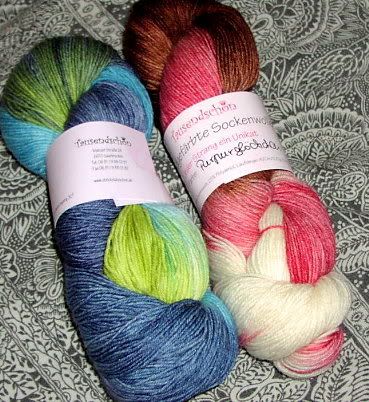 The one on the left is
Neptune
and the one on the right is
Purple Bell
, named for a beautiful German flower. Our autumn is turning cold now, and I'll need all the handmade socks I can make!
On another note, I checked the stats for this site and my photos here get almost 60 hits per month! Soooo, If you visit, please leave a comment...