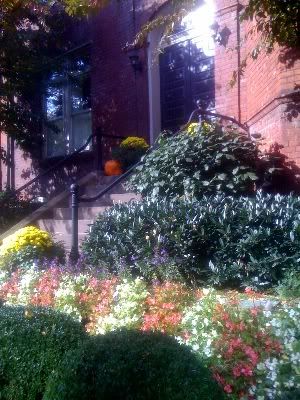 The next part of out DC trip involved tea. Really, really good tea.
Teaism
is such a fun tea room, stocked full of beautiful tea accessories and tea-related gifts downstairs: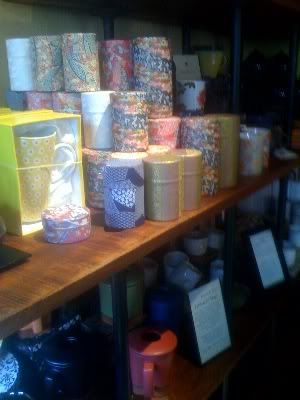 and a small, cosy room to rest and sip upstairs:
We waited patiently for a table
next to a Zen-like minimalist stack of seating benches beside the winding staircase...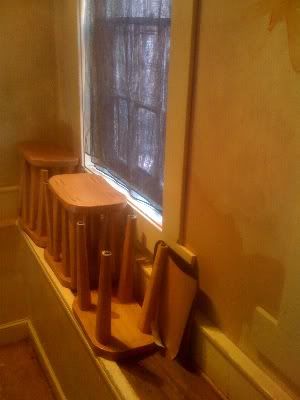 I very much wanted a bento-box with my tea, but was still full from the fresh-strawberry-and-nutella crepe I had eaten at the French crepery just a little earlier...
Our hotel was walking distance from the
National Zoo
, and it was a beautiful fall day so we strolled while I gazed, amazed at all I saw. The street was lined with gorgeous big buildings - with lovely vintage era details. This place has been turned into condominiums, I think. It looks like something out of
an old Cary Grant movie
!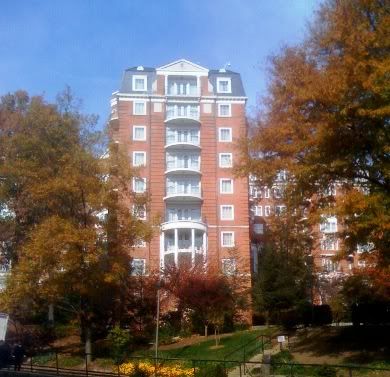 One townhouse has this lovely llama sculpture in the front garden - doesn't he have such a personality in his face?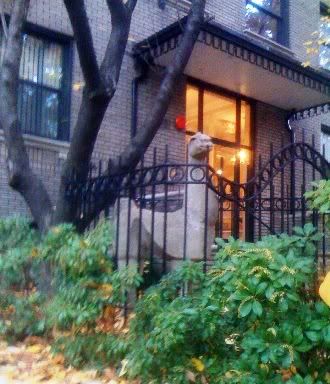 As I was trying to capture a good picture, a curious fellow jumped up on his back and watched me intently, seeming to ask for his photo to be taken too!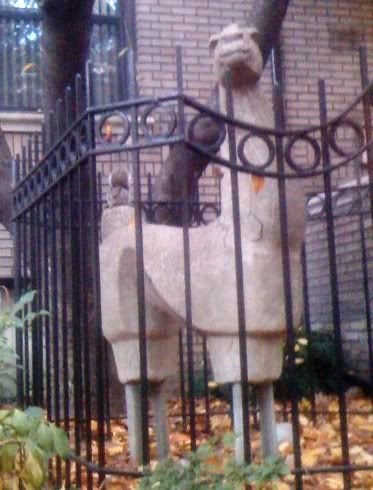 For some reason, at the zoo, I was so amazed by everything that I forgot to take pictures until we went inside the small mammal building!
We saw the
Saki Monkeys
: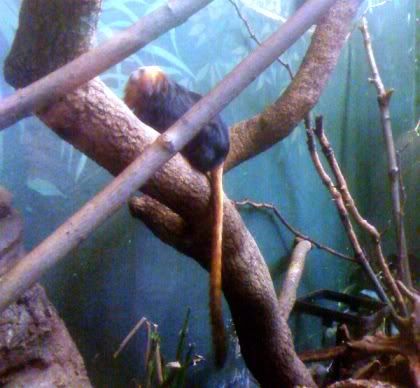 The Golden Lion Tamarins
(which I loved!):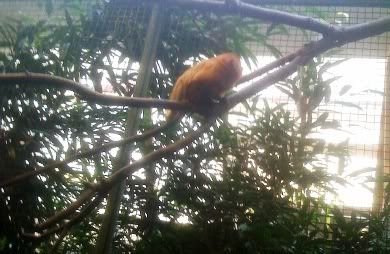 The
Black-Tailed Prairie Dogs
(a big hit with a huge crowd of children):
and the
Degu
who were so cute sleeping in a big pile, using each other for pillows:
We strolled from one end of the zoo to the other and areas we especially liked were the
Lions and Tigers
. They were so beautiful! They hold themselves and move so majestically, it's easy to see why they're considered the "Kings of the Jungle".
After the zoo we had more tea and then took a drive to Old Town Alexandria, Va, and found this amazing place: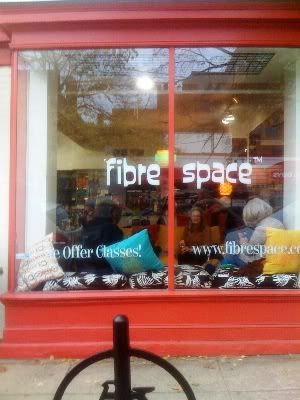 Fiber Space
, a knit and crochet universe, is everything it's name implies. What a wonderful magical place!
The people were wonderful, the stock was immense and unique, and the atmosphere was relaxed and hip. I felt instantly welcomed there! One of the things that most enchanted me was that they had yarn from companies I'd never heard of before as well as patterns and yarn from companies that I'd always to own (like Pidgeonroof Studios).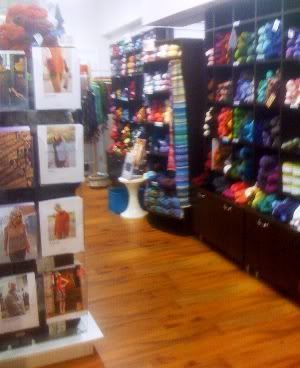 Right away someone came up and said hello and asked if she could help me with anything. When I told her I was from out of town and just wanted to go around the store and look at every single thing, she laughed and said "enjoy!". I was there for about an hour and she came back a couple of times, not to bug me or to 'check up' on me, but to make me feel at home. We chatted about different yarns and she showed me the ones that were local to the area. We had a super conversation about cashmere, and she encouraged me not to fall for inexpensive cashmere that resulted from poorly cared-for animals. I was really touched that someone would be so open and friendly to a person that they didn't know at all. It was pretty amazing. Oh, by the way, the placed was PACKED with people - they had groups of people knitting and shopping and the staff were each helping someone to calculate their project, or wind their yarn, or figure out a pattern - but it wasn't hectic and didn't seem crowded... it was just so...
nice
...It was like a big family on Thanksgiving.
And I bought a ton of stuff. Of course. I was comforting myself for missing Rinehart this year. That's fair, right? And she put it in a GREAT Fiber Space bag!!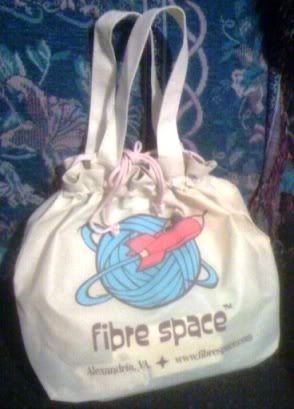 AND she gave me a Fiber Space tote!
This is my swag:
Brooklyn Tweed patterns - Hourglass Throw by Anne Hanson, Ranger Cardigan by Jarod Flood, Caldwell Vest by Stephen West, and Levenwick Cardigan by Gudrun Johnston.
A skein of Pidgeonroof Studios Cassiopeia, a MCN in a colourway that could either be "legolas" or "sage lt"...
A most beautiful local yarn - I could have bought one in every colour - of mohair and silk by The Neighbourhood Yarn Company in the colour Rock Creek Park...
A skein of Silk and Merino from a company called Viola, which is shortly to become hard to find... this skein is called Unpredictable and is a pretty pinkish, like a vintage doll's body...
Another Viola skein, this one fingering merino in "Dark Ghost" such a beautiful pale green...
and yet another Viola skein, a soft lace weight single ply this time, again in "ghost"...
and then a few accessories that are always highly coveted by me: Purple Puppy Snips, Green KA stitch holders, and the new wonderfully colourful HiyaHiya darning needles for seaming.
Did I say how much I loved Fiber Space? I love them so much. If you have a chance to visit one place in the DC area, go to Fiber Space.
After that, we wandered a bit among the lovely streets
and when it got dark we retired to the most incredible restaurant called Old Europe and ate German food and drank a chocolate-tasting beer...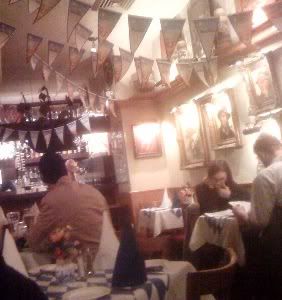 The perfect end to a perfect DC visit.