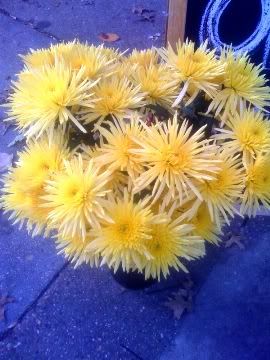 We recently spent a week in Washington, DC and I have a ton of photos and experiences to share. It seems unkind to write a 45-photo post - who would read that?! - so I'll divide it up a bit so it's more accessible, though it's still photo-heavy.
I'm not able to fly right now, so we took the train, which was a long, weary journey but very beautiful, watching the coast southward all day!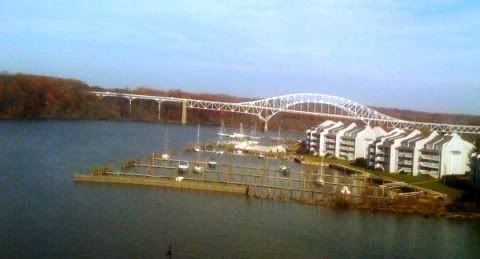 Our friends had reserved a haven for us in a wonderful hotel, the Omni, where they brought fresh-squeezed orange juice to our door every morning. The veranda-style dining room was peaceful and pretty, and we always started our day there with tea, looking out at the brilliant sun-reflecting autumn foliage through the French doors.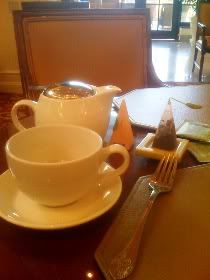 The hotel had some kind of French-themed gourmet event going on called "Simmer, Saute, Sante: The Flavors of France", which meant the menu was full of mysterious items that we guessed at, to satisfying effect. The cheeses were especially fun, though I found out I'm mildly allergic to Gorgonzola.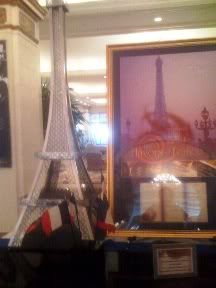 The next day we went shopping around an older section of DC, to find a couple of Antique shops. My friends found a great 50's black leather chair that looked perfect in their apartment! I did pick up a few gifts (one of which is going to Australia for a combined birthday and Christmas present), and my bf bought me a pair of green stone scarab earrings.
This part of town was so interesting! There were trendy upscale shops, and gorgeous antiques, and effervescent florists with colourful bouquets bursting out the doors, side-by-side with empty buildings and broken sidewalks.
I was so taken by the wall paintings everywhere! This was on a jazz bar:
Painting on brick takes a particular skill, I think, especially to have the impact that these paintings did, such as this poignant painting that advertised a family counseling and support center: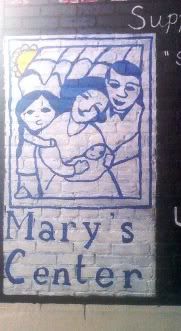 I have no idea what these huge flying pandas wearing mortar-board caps and holding diplomas were advertising:
But my favorite was this two-story one on a building that used to be a bar called Lautrec:
We traveled to another part of DC to visit
Looped Yarn Works
on Connecticut Avenue so that I could get a fiber fix. I had brought knitting with me - two projects - but my knitting mojo was low and I frogged both projects. I needed inspiration.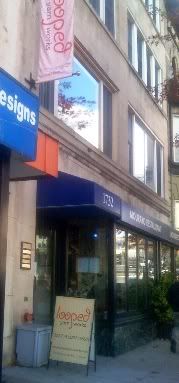 Looped is on the second story of a city building, up a narrow set of stairs to a little hallway...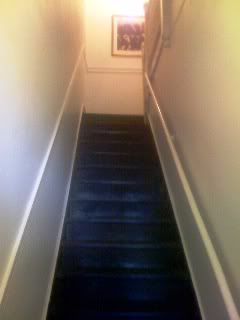 But this hallway holds a treasure, a beautiful old framed photo - it looks like the 40's - of knitting girls! I wondered if it was of a relative of the owner?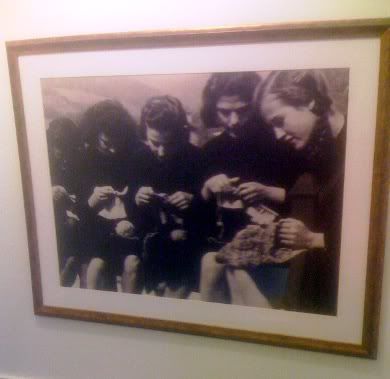 Looped was super busy, super, super, Super busy - and it was the middle of a Friday afternoon! It is two smallish rooms and a narrow hall connecting them where the counter is across from the entrance door, and every inch of each wall is used to display things. It was a bit frustrating to have to shoulder my way through people to get from one room to the other, and to view the yarn from behind the backs of other shoppers. The tables and chairs in both rooms were all occupied by knitter's groups and it was noisy, thought cheerful and contented noise. I tried twice to get help from the staff, but both times they tried to talk over the noise and got harried and left me. Twice, I reach out to pick up an item I wanted to buy, and someone else's hand shot out from behind or beside me and grabbed it before I could. Twice I tried to talk to the staff to ask if they had something in stock and was interrupted by two other people vying for their attention. Don't get me wrong, the staff was very nice and the stock was enticing, but the experienced wasn't soothing... or exhilarating. It was like a competition.
Still, I managed to come a way with a fair amount of stash that I'm looking forward to using. I wish that they hadn't been so low on stock of the project bags and that that woman beside me hadn't grabbed two out of my fingertips as I went to picked them up. But I didn't come away empty-handed.
I have Madeline Tosh Merino DK (single ply) in Iceberg, Madeline Tosh DK (2-ply) in Ginger, and a yarn new to me: Poet Seat Yarn Merino/Silk from Kangaroodyer in
Sunlight in the Forest
, very lush. I also got three packages of hand crocheted embellishments to decorate my sweaters. And... this little collection of cute buttons, pink abalone flowers, wooden airplanes, and one very special painted-on-wood giraffe: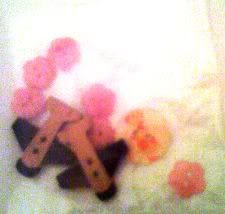 I'm exhausted just remembering this busy afternoon! It was great fun though, as you can tell from the photos. I'll save the next few days for my next post.