After the December holidays, I like to have a day to myself to gather my thoughts and reorganize the occupations that make life meaningful. I love friends and family and the time spent together during these festive weeks is always wonderful. But I find myself craving some solitude at the end... just one day to calm my mind and order my thoughts.
In keeping with this day of solitude, here is one of the projects that I made for a Christmas gift, the
Solitude Tippet
.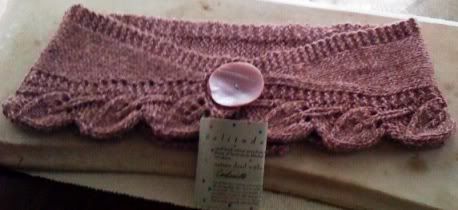 The pattern is
Saroyan
(Ravelry link) and it's a quick and very pleasant knit. It's written as a scarf, but as you can see, I shortened it to a tippet (a Victorian neck-warmer) to fit the hand-spun skein I had. It can also be lengthened and widened to make a shawl, something I plan to do for the winter Ravelympics. Saroyan is knit end to end, from narrow end to wide center to narrow finish, creating the leaves as you go.
My skein of worsted-weight yarn is from Solitude, a "small batch artisan yarn from the fleece of Tunis sheep blended with red alpaca." It was 120 yards, and nature dyed with Cochineal, a beautiful rose-grey. I used the entire skein, with just a three-inch tail at start and finish.
I think the recipient liked it - it certainly looked great on her - but you know how it is with handmade gifts. Do people really like them? I do. So I guess that's why I keep making and giving them. I live in hope.