I'm sorry I've been away for so long. I have embarked on (what is for me) a great adventure! I am 3000 miles away from home and living in an unfurnished studio apartment in a kind of spare Zen way... I will be here for a month. I have a good reason and this is it: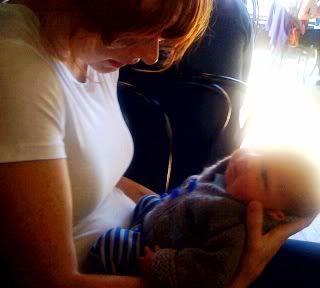 He is a Very New baby, just a week and a half old. Jule is doing great and she is a wonderful parent. I'll be here - far away from my own home - for the whole month. It's strange and exciting living in a new place, and of course I love being with them every day...
I am living on the 3rd floor of Jule's apartment building. She found and rented this place for me because it would be so much better than staying in a hotel for the same length of time. My apartment is beautiful, in a building that used to be a convent in the 30's. I have a big claw footed tub, a gorgeous deep bay window that is just begging for a window seat, and I have a lovely little 30's kitchen with built-in glass fronted dish cupboards and a sunny window.... I've bought very little and intend to live quite simply while I'm here.
As you can see, the baby is wearing the sweater I made before he was born. It turned out very tiny, but he's a tiny baby (just 7 lbs!) so it fits him perfectly now. We've had a couple of cold days here on the west coast, in between scorching 96 degree days, so he did get to wear it once or twice. I'll make him a bigger one when I get back home.
I also finished the big comfy sweater - Red Lantern - for Jule while I was here. I needed to fit it on her to make sure the arms were long enough. It's perfect! I'll take action shots as soon as we get a chance.
This is a beautiful deep red (deeper than the photo could capture) of Plymouth's Baby Alpaca Grande yarn. It took several skeins - maybe 6? It's my own pattern that I intend to write up. Here you are seeing it unblocked. And for some reason, the photo turned blurry when I saved it....
But here is a bit of a close-up that is a little sharper: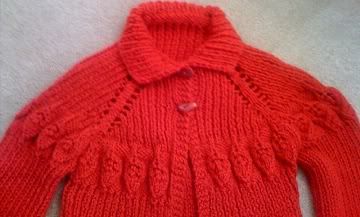 Today is Jule's birthday, and I suggested making a Maple Bacon cake and friends will be coming over tonight so there's lots to do and I'd better get started...
I'm keeping up with Ravelry and reading your blogs, but I don't get a chance to post very often, and now you know why!