For those of you who asked, yes we had those rain storms and floods, but I was fine. My roof didn't leak, (My roof didn't leak! My roof didn't leak!) but my barn did. That will be the next big project that I will have to save for.
I have been enjoying my sock-making, and have some results to show you! I still don't have a way to actually take digital pictures for you, but have found examples of each of the pairs that I've made on the net, made by someone else, so can at least give you an idea of what is hopping off the needles like enamored bunnies!
This first pair is of Knot stitch socks and the pattern was designed by an ordinary person like myself which she posted on her Blog. Here is her picture of them: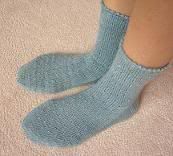 Mine are deep, midnight sky blue in wool and angora, so they have a little halo of bunny fur around them, just like hers do in the photo. Not very practical for wearing in shoes, but will be good for clogs and around the house..
The next pair is of lace stitch socks in the Embossed-Leaves pattern of
"Favorite Socks
":
Mine are light blue just like this photo, except that I made them from two skeins of Pear Tree Australian Merino wool. The heels are reinforced with a fine nylon thread so that they won't wear through. These are going to Mingbutterfly to encourage her during her grueling law exams, once I can take photos of them to save in my portfolio!
The third pair are the "Evening Socks for a Young Lady" from
Knitting Vintage Socks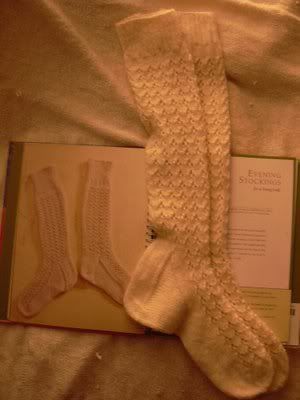 My pair are not white like these, but are done in a self-patterning sock yarn of light green, teal, and tan that looks like a rainy day. I'm finding this a challenging pattern because the sizing is so big. I always thought Victorian ladies were smaller than we are today, but I guess they had sturdy legs, because I've had to decrease several times to make these fit me and I done a pretty messy job with it! But the mistakes are on the back, so I'm hoping no one will much notice once I'm actually wearing them!
My boyfriend was over to watch the Red Sox game last night and of course, I showed off my sock knitting to him. For the first time he asked to have something knitted for himself! He chose a medium blue alpaca yarn that I got in Seattle (its from Honey Tree Farms I think, and spun and dyed right in Washington State). I'll definitely have to use reinforcing thread with his pair so he can wear them with shoes. This is progress – a man who appreciates hand knitting and actually wants to wear it! See me smile.
Next week I'll be off from work, so don't know if I'll be able to keep up with lj, unless I can borrow a computer. I'm having the final, and most important, surgery. I have to stay in for a week afterwards so as not to challenge my immune system by coming into contact with anybody's germs but my own. Yesterday I ordered yarn from Colorsong & Naturesong Yarns (a mother-daughter internet company in Canada) and asked them to send the package next week so I would have some "cheer-up" yarn after my surgery. The nice lady called me last night. People are so incredible, aren't they?
She called because they didn't have a colour I had ordered and wanted me to choose a second choice because, she said, "since this is your "cheer-up" box, I want to you to get everything you wanted." I asked her to choose a colour for me, so it could be a surprise and she is happy to do that. She asked, "are there any colours you absolutely don't like?" and I said "stark orange and stark yellow." Most of my friends love orange and yellow so its odd that I don't, but I guess I balance them out. Living in a state known for its beautiful Fall colours, I'm an anomaly. I love ocean colours and sky colours and forest colours and purples, and any shade of green is my favorite colour. But I love flower colours too, so I've been making friends with red and mellow oranges. Personally, I think this shows psychological progress, because the warm colours are "happier" and more "hopeful" than my usual choices…
I will be making socks For Ever will all the yarn I now have - plus the big box of sock yarn Nadine sent me last year ina yarn swap! Not that making socks for ever is a bad thing. not at all. Everyone needs socks, don't they???
I am listening to Hayley Westenra
Celtic Treasure
this morning. Its very beautiful and calming. Beside me is some white tea, and some preparation-for-a-meeting work. In spite of the petty competitions and jealousies of this job in academic life that erupt almost daily, I'm content.