This afternoon, after a morning conference that started (or seemed to) at dawn and didn't include lunch, I ate at
Beijing Tokyo
, a restaurant downdown. I got vegatable tempura and miso soup. And a fortune cookie came with the bill. I love fortune cookies. The hope that somehow chance will know exactly what is going on in the course of any random life is very amusing and optimistic!
Mine read:
"You will receive something special in the mail"
When I got home, after a long, long day and an after-hours meeting, I found this on my doorstep: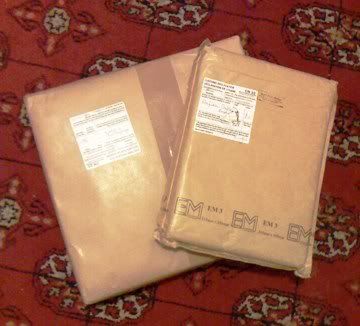 Two packages from afar! From England, in fact!
The first was my order from
Kim Hargreaves
.
I love how she wraps everything up in tissue and ribbon. Items are packed in white gift boxes and include a blank card, so that when you've finished knitting whatever it is you've ordered, you can give it as a lovely wrapped gift.
My boxed included her summer book of patterns,
Nectar
, and the very new one,
The Thrown Together Collection
. I also got a kit, but since it truely is a gift for someone, it will remain a mystery for now...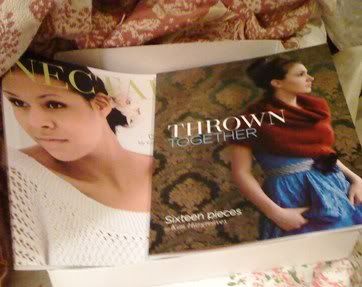 Every pattern in both books is gorgeous and several have a really 30's or 40's flair. I want to make them all. This one, with its wide neckline, is calling me...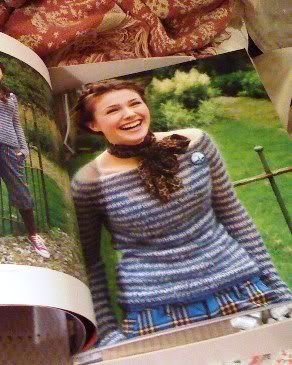 The second package was another special knitting resource from the 1930's: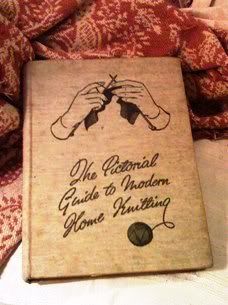 This book,
The Pictoral Guide to Modern Home Knitting
, by Odham's Press of London, is full of stitch patterns, designing tips, and actual patterns - many for underthings of both practical and lacy nature. The French Knickers are adorable and the American Panties are depressingly practical! There are a few bathing suits that look just like the unders. I especially love the vests, corset covers, and spencers: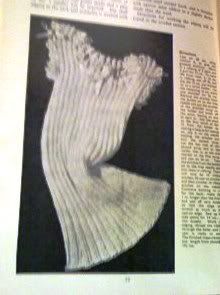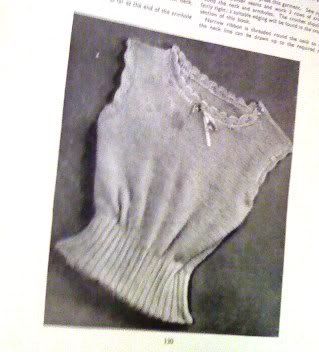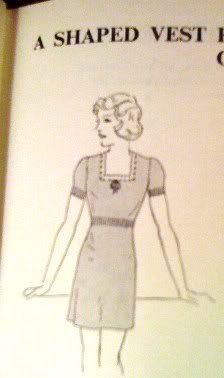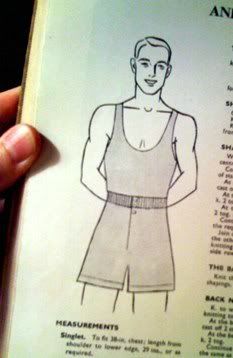 There are plenty of clothing patterns, too. One that caught my eye has a knitted "godet" of pleats in the back of a pretty skirt:
And one of my very favorites is a little sweater that is made from 5 skeins of pure angora!
The Fluffy Bolero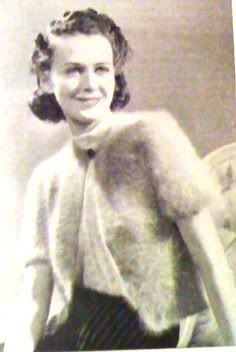 This sweater has somewhat sketchy directions for tricot crochet (made with an afghan hook). The pieces are made square, or almost, and the curve for the neck front edge is made by turning the piece under when the sweater is seamed and "
sewing the superfluous fabric to the wrong side
". This sweater would probably be easy to crochet, but I also think that it could be easily converted to knit stitches. Angora is almost impossible to undo, so it would be important to be sure of the design first, perhaps practicing the sizing of the sweater in garter stitch with a smooth light yarn.
Here are my thoughts on conversion to today's crochet. I would make it entirely in single crochet (double crochet for any Brits reading this).

Measurements. To fit a 34-in bust; length from shoulder to lower front edge, 20 inches. Sleeve length, from underarm, 3.5 inches.

Materials. Five balls of 1/2 ounces each, in 100% angora. A medium hook and small hook. (sorry, no hook size is given. I would probably start with a G hook and an F hook).

Right front. Chain 32. Single crochet (sc) in each chain, starting with the 2nd chain from the hook. Ch 1, turn (ch 1 at each turning). SC in each sc across. Increase in each of last five sc. Contnue even back and forth until the work measures 8 inches from the first row.
To shape armholes: SC to within five stitches of the end, turn, ch 1, work back. Continue even back and forth in sc until the work measures 16 and 1/2 inches. Fasten off.

Left front. Make the same as for right front.

Back. Chain 62 and sc in each ch, starting with 2nd ch from hook. Continue even in sc, back and forth, until the side edges measure 8 inches. Then follow the directions for shaping the armholes, as for the right front, only do it on both sides of back simultaneously. SC even, back and forth, on these stitches until the entire back measures 16 and 1/2.

Sleeves. - make two. Chain 32 and work in sc for 3 and 1/2 inches, increasing 1 stitch at each side on every other row. Then, decrease twice on each side of the next row. For the next 2 inches, decrease 1 stitch in each row on each side. Then, for the next 2 and 1/2 inches, decrease 2 stitches each end every row. Fasten off.

Make up. Join the side, shoulder, and sleeve seams with over-sewing in a matching sewing thread. Shape the top of the fronts as desired and sew the superfluous fabric to the wrong sides (this is from the original directions). Work a row of DC (double crochet - or triple crochet for the Brits) down the fronts and across the lower edge of the back, using the smaller crochet hook. Then work two rows of SC, slightly tightening the edge and putting 3 stitches into the corners of the right and left fronts. The 30's directions say that it is not necessary to work an edging around the sleeves.

Make a buttonholed bar in the right front neck edge to fasten the small button sewn to the top of the left front. Press the fabric carefully, being sure not to rest the weight of the iron directly on the fabric.
There you have it! If I find any nice angora, I'll try this pattern out. I like the idea of a soft, fluffy sweater for the fall!