I tried to capture the sheets of rain falling just beyond the overhanging roof of my work building... but...you can see the dusky light and not the raindrops.
It would be a good day to stay home and read (reading
Eclipse
) and create something.
create something like......
Victorian bedsocks
?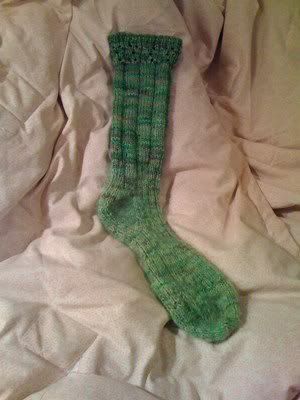 Pattern:
To Sleep
, by UnravelingSophia
Yarn: 2 skeins Koigu (greens), 1 skein Kid Seta
Needles: DPNs size 1.5 (2.5 mm)
DPNs size 2.0 (2.75 mm)
Circular size 3 (3.00 mm)
You can see that the sock toes are big and round. This isn't because my toes are big and round!
These socks were designed to take into consideration all the usual problems with bedsocks. Toes that are too tight or touch the tops of my touchy toes are annoying when I'm falling asleep. I always kick them off. But the ankles on these stockings, as you can see, are much tighter. This is because my non-heeled socks always fall off my feet during the night and I get cold again. And the calf of the stocking is both a lighter fabric and a looser knit once again, so I don't end up with those funny looking bands of red around my legs overnight!
I was young when I inherited this very big, very old and very cold house I live in. And it sounds like this is going to be a very cold winter. My plan is to make as many as I can of those comfort items that were common in houses before the advent of central heating...
Catherine approves: