There are things when you dress
That you put on your toes
There are boys who wear tubes
And girls who wear hose

If you wanna keep me warm
When the freezing cold wind blows
Don't give me your love and forget it
Just give me a pair of those

I want your socks
I want your socks

I'll wear 'em on my feet
I'll show 'em to my friends
'Cause I like the feel
Of those hand-knitted trends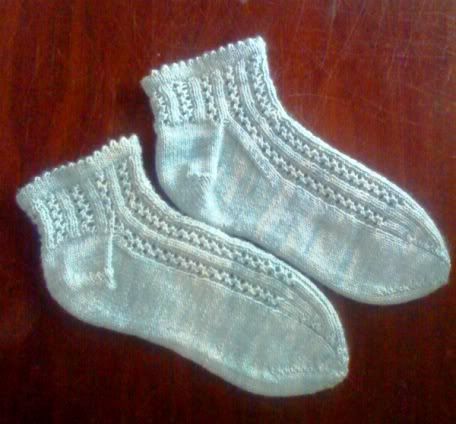 The second in my series of socks for myself are the Rainy Day Socks made from MadelineTosh sock in the lovely Wash colourway. They were fast and the pattern was easily memorizable and they are perfect for spring wearing. I made size small on US 1.5 dpns. I did adapt the pattern, which called for a kitchenered toe, to a star toe. I'm all about the Easy!
But I found it hard to continue to knit things for myself. After all, the little guy needs socks too - he is growing like a sunflower! I just bought him two new pairs of shoes, because his toes were bumping the ends of his old ones and there were absolutely no handknit socks in the drawer that fit him! I think the last time I made him socks, his feet were only 3.5 inches long and now they're 5.5 inches! Oh no, that's not right! I did knit him these Sherlock socks a year ago, and they were 5 inches long - but they were no where to be found.
And besides, I'm impelled to create for those I love, so I've switched my attention to making as many pairs of little socks as I can before Camp Loopy starts on May 27th. So far, I've managed three socks and I hope to finish 3 more in the next week - all stripey: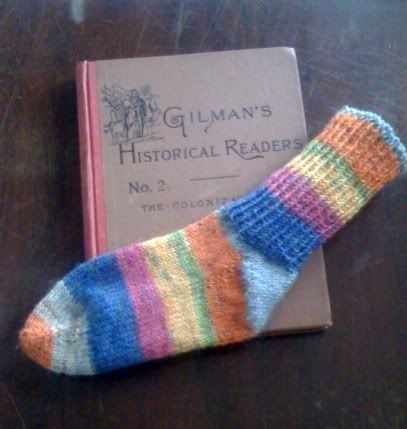 I have my own method of toe-up construction and they are fast, fast, fast and easy, and fit so well!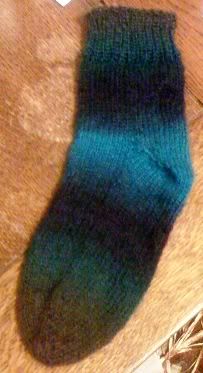 And because the little guy's socks take so little yarn, I'm left with a fair amount of widowed and orphaned skeins in colours that don't suit me (but that he loves). Should I save them for the next growth spurt?