As you can see from the Bobicus medal, below, I've crossed the finish line in the Short Track Shawl race of the 2010 Ravelympics.
I cast on in a hotel room on the ocean while watching the Opening ceremonies last weekend - away for Valentine's with my sweetie. He was very supportive of my Ravelympics obsession and understood my need to cast on at this exact moment! After I got a good number or rows down, we went down to the bar and watched the rest of the Olympic opening there, with good wine and chocolate covered strawberries...
My Ravelympics challenge was the beautiful
Saroyan
pattern by Liz Abinante, but in shawlette size...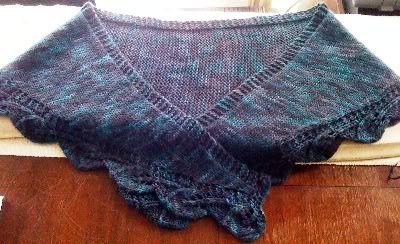 I used Blue Moon Fiber Arts in their gorgeous Luscious Single Silk fiber - the Thraven colourway, and a size 10 (6 mm) circular Addi needle. It worked perfectly - just as I'd hoped. I thought I would need to add repeats on the increase section to make it wide enough for a shawl, but in fact, I knit it exactly as written. The soft bulky-ness of the yarn did the rest...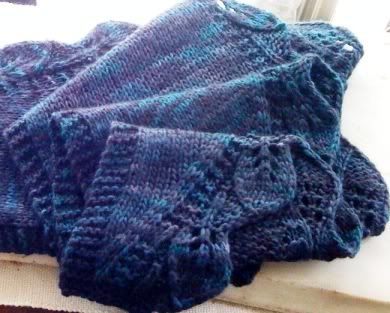 The season seems to be struggling to turn - winter is trudging towards the bus stop, her tattered skirts trailing in the dirt and remnants of snow... but spring hasn't arrived. We have dark days that smell like rain and I'm often melancholy and dark. You can see that my new shawl suits me perfectly right now. I'll wear it today!