yesterday I took an idealic trip to Massachusetts for the Deerfield Craft/Quilt/Fiber Fair. The drive was beautiful because the maple trees are beginning to be that deep gorgeous crimson, and the other trees along the way were varying shades of pink, yellow, orange, and purple. I wasn't doing the driving, so I could gaze out the wondow at the scenery! We saw lots of wild turkeys, including some baby ones.
One of my favorite booths was the handmade baskets. I love baskets for my knitting projects and saw a couple that I wanted. Unfortunately, someone else also had their eye on them, and I missed out.
I did get some yarn, from Foxfire farm. The woman at the table recognized me! I guess that means I've been stalking the fiber festivals a bit too regularly these last couple of years!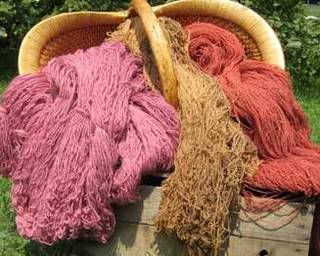 I got one skein of the lavender yarn on the left (they only had one skein) and a couple skeins of the coral. I hope to make a short coral shrug/capelet for myself for the fall.
Lunch was a definite high spot at the fair. Food was provided by the local Ukranian Church and I had potato and cheese perogies with sour cream and some sweet bread with apricot filling. So good! During lunch, some children put on a play of the Phantom Tollbooth. The singing voices of these 12-year-olds was unbelievable...