Today, after McCann's Oatmeal and Wheat Toast (just bragging about my healthy eating habits this morning...) I am finally going to Boston - where I have wanted to go all holiday season! - for shopping and visiting. We're going to drive down to a suburb and take the T into Cambridge's Harvard Square to visit the Bead Shop in Church St, the Yarn Shop on JFK, Burdick's Chocolate Cafe, and Cardullo's delicatessen, and any other shop that captures our curiosity. So many restaurants to choose from, too! Today is cold, but I don't care. The excitement of going to the city will keep me warm! I would like to take my camera to share the trip with you, but it's an old one that work discarded a few years ago and is very big and heavy.
I do have photos, though, for you today. These are the Christmas knitting things that I didn't want to post until their recipients opened them...
First, the scarf knit with Carina's grandmother's needles, which she sent me in the fall: (it's being modeled by my kind friend Chris) The bubbly-spun wool did all the work on this one!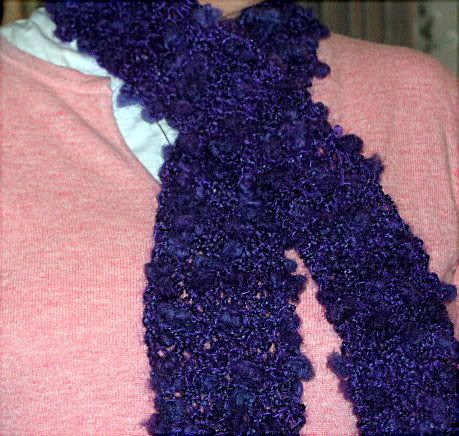 And these are her gloves, which I started before the scarf, but they took for-ev-er! The base yarn is the Opal superwash, but I added in a purple silk thread and a wrist stripe of KidSilk Haze. The back of the hand has a small beaded motif of flowers and leaves.
This next picture is of the very complicated lace design scarf that I designed myself, for Julie. It has Louisa Harding Kimono Angora on each end and LH Impressions with a thread of silk for the lace part in between. The rose colour is really pretty - I noticed she was wearing this colour in a photo she posted, so that's why I chose it. I don't know what possessed me to photograph it against a red pillow, but remember I had the flu before Christmas and no doubt it addled my brain cells....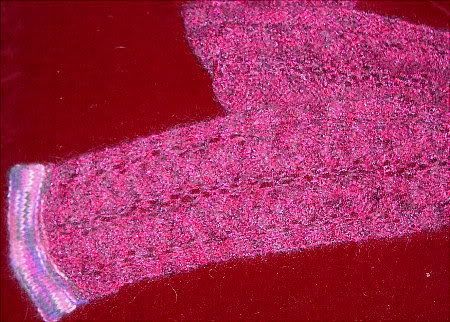 This last one is the same design in different colours, for my sister J, to remind her of our 20-year-old cat - Shadey - a nice midnight black old man who seemed to glow with copper in the sunlight and disappear into the shadows in the shade. He had three white hairs on his chest - nowhere else. He died last year - a few months before Sausage. He was really her cat, much loved, and slept on her bed until she went to college.

That's it for the knitting right now... I've been much absorbed in enjoying the wonderful gifts you all sent me. J gave me a Nintendo DS and the game "Cooking Mama" which I am already seriously addicted to.
Off to Boston - see you later!