well, last-minute Christmas knitting continues, with me racking my brains trying to think of fast but effective patterns...the book,
Last Minute Knitted Gifts
might come in handy, you'd think, but many of the patterns are not that speedy... the 4-hour leg warmers took me 4 weeks! LOL! But, the little lacy scarf is a winner and can be knit on a variety of gauges, not just with KidSilk Haze. Here it is from one skein of Baby Alpaca Brush (110 yards, chunky-weight) from Plymouth Yarns (note - I used size 11 US needles). The colour didn't come out right in the photo; its a more leaf green than spring green. But then, my carpet is more light peach than dark pink! Anyway, this is for my physical therapist, who has been working on me for 3 years: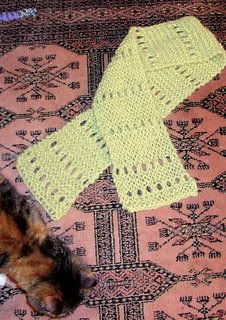 Also "on the needles" is a thin red mohair scarf with a multi-coloured thread running through it. Marky sent me this partial skein that he found in an Australian Op Shop (thrift shop to us Yanks) and its lovely - very soft! The person I'm making it for is very tall though, so I need to add a second skein of something to each end to make it long enough. My plan is to add the yarn in K1M1 so that the ends will be bell-shaped ruffles. I think that would really suit the giftee.
And finally, a triangle angora scarf from Louisa Harding Kimono Angora in a leopard print (thanks for the idea, Nadine!). I'm using small needles (size 5) so its taking quite a while. This is actually a very basic time-honored pattern that's been around since the 1800's. You just start out with a small number of stitches and add one stitch every row by doing a YO on one end. It gets gradually bigger and bigger while retaining its nice triangle shape.
Both of the patterns above could be done in crochet with nice effect too! For the one in the picture, you would chain 16 (if using a normal weight yarn - more if using a thin yarn) and double crochet every stitch for five rows. Then on the next row DC in first 2 stitches and then chain one and skip a stitch, DC, chain one and skip a stitch, until you get to the end, then do a DC. Then go back to DC every stitch, remembering to DC in the Chain stitches too. Then after another 10 rows of DC, do the fancy stitch row again. Keep going this way, with a fancy row after every 10 rows of DC. End the scarf with five rows of DC like the start.
For the triangle scarf, start with a chain of 4 (meaning 3 plus one on the hook). Single crochet (SC) in the second ch from hook (meaning the one directly after the one on the hook) and on the next one. Then chain one, and then SC in the chain on the end. You now have five stitches (if you count the loop around the hook). Chain one (your turning chain), Turn and Repeat this pattern: SC in each stitch (including the chain stitch you made, which will be the second stitch you crochet into) until you get to the last stitch at which point you chain one, then SC into the last stitch. Remember that you have to chain
one
at the end of every row to make a turning stitch, but this turning stitch doesn't get used. Your crocheting should make the same gradual triangle as in the knit pattern. The beauty of this pattern is that you can continue until you get to the size of scarf you want, from neckerchief to shawl, and you can use this when you don't know how much yarn you have on a skein because going from the point up means there is no left-over yarn.
Well, now I've told you more than you ever cared to know so I will stop. I need to box up some cookies and a little knitted hat ornament…