I'm beset by responsibility at the moment and this has paralyzed my own designing. I took Briley's advice and pulled out a 'small' knitting project - the Plimoth Plantation 16th century stockings.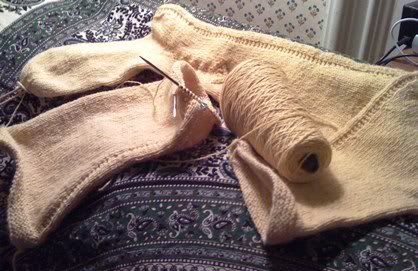 As you can see, I don't have much to do to finish this pair so that a size 12 foot freezing early American re-enactor can warm up his leggings... I want to get them done before the new year and send them off while they are still needed!
I actually love the pattern - one that a lot of research went into to make them authentic. It really brought home to me how current construction for knitted socks was not just for the convenience of the knitter, but for the comfort of the wearer! For instance, the original design has a seamed heel - a 3 needle bind off right across the bottom of the heel so that you are standing and walking on a seam. This could cause serious pain on long walks! But it is absolutely authentic and I love the ancient look of it! The clock on the ankle, the knitted welt to brace the garters, the skin tight shaping over the calf and thigh - these are all very charming touches.
The yarn used for these (provided by the Plimoth costume department) is straightforward 2 ply 100% Shetland from Harrisville Wools. It is scratchy beyond belief and full of lanolin that strips layers of skin from my fingers where the yarn habitually lies. I'd love to try this pattern with a softer yarn - say, Lorna's Laces...
In other news, check out Ysolda's
Whimsical Little Knits
collection. Is that adorable or what!? I bought my copy today.