Do you remember when I was doing sample knitting for the new publication of the vintage book
A Stitch in Time
? I wasn't allowed to show you what I was working on (standard practice in publication), but now the book is published and photos of the projects are going up in Ravelry!
Here
is one of the patterns that I knit - the cloche! (Ravelry.com link) I got to choose the yarn and colour myself, as the time to the photography shoot was too short for the editor to send me another packet of yarn from England. I think it worked out beautifully and this pattern from the book currently is the "most favorited" of the
Stitch in Time
patterns on Ravelry!
For those of you not on Ravelry, I'm trying to get permission from the editor to post the official photo on my blog.
for now...here is a very poor photo of me modeling the sample model in my mirror....(believe me - it looks so much better on the professional model!)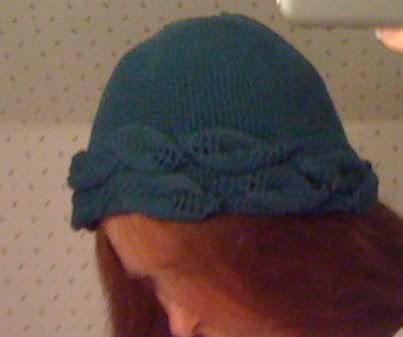 I also knit a beautiful cabled blouse for the photography, but don't know if it made it into the book because there was problem with the post getting the supplies to me, so the editor and I cut it very close with the blouse finishing. I wish I could have done more of the knitting and crocheting, but the timeline for completion was so short and it took 3 weeks to get the packages back and forth from England to here!
Check out all the patterns on Ravelry - there are many sweaters, jumpers, and blouses, a bathing suit, underthings, hats, scarves, and on and on! I think there are about 60 patterns in the book...I'm supposed to be receiving a copy of the book for the sample knitting, and I just cannot wait! This book is my dream Vintage pattern book!

Edited to add: Oh My Bob!!
I just saw that the blouse I knitted was included in the book and has been posted to Ravelry!
HERE
it is for Ravelry users. And here it is, carefully waiting to be finished and sent to the publisher...