My final secret holiday knitting project was opened last night by my friend, so I can now reveal it here.
Raven's Wing
This shawl was knit from
Blue Moon Fiber Arts
lightweight Socks That Rock, 1 skein, in the Raven series Rauen. It is a deep black with flashes of deep red. This yarn is such a pleasure to work with!
I started with a US size 6 circular needle (32 inch) and used a regular neck-down triangle shawl construction from
Cosmicpluto's Simple Yet Effective Shawl
without the stripes.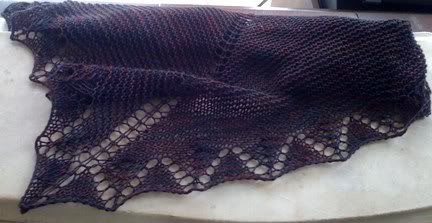 After a few inches, I switched to a slightly larger needle - size 7 - because the shawl was becoming very dense and heavy. While I liked this cosiness around the neck, it wasn't the effect I was going for in the body of the shawl. This shawl uses garter stitch so I just knitted on and on and on. It was great take-along knitting and I got a lot done while at Thanksgiving Dinner at my boyfriend's parents' house!
As I got toward the end, I started contemplating a lace edging that would really have the wing-like effect of my imagination. I switched to a size 9 circular needle, and started the edging chart for the Shetland Triangle from
Wrap Style
(a book I recommend). I started running out of yarn on row 12 of this 14-row edging, and was able to complete a loose bind-off just in time!
Wet blocking had an incredible effect on this shawl. Remember, it was mostly garter stitch, so it was crimped-up and small when just off the needles. I worried about plunging it into a sink full of tepid water - afraid it would bleed or pill - but it came through famously and only looked better and smoother! The shawl blocked out so large that it overflowed the edges of my long dining room table! I used blocking wires for the first time with this shawl.
One of the things that made me most happy, besides the deep, soft yarn and how it looked knit up, was that it really did look like a Raven's Wing - just the effect I wanted.
and my friend liked it.
Now, I am really in a knitting funk and can't figure figure out my next project. Any ideas?