I feel a bit like Alice in Wonderland, running through the Red Queen's garden, trying to avoid having her head de-necked. Time is moving so quickly forward, and all that I have left undone is catching up to me, with the swift sword of guilt brandished over my head.
My holiday knitting plans are actually quite modest compared to recent years - only four projects. Well, there should be five, but I've had to give the 5th one up before it was even started because... well,... it's December 3rd and I have to get these things in the post.
Most of my projects I won't be able to show in my blog, but this one is for my boyfriend's mom and I don't believe she owns a computer at all.
This is
Rivolo
, from
Knitspot
, in Jojoland 100% natural cashmere laceweight. It took frackin ForEver to make long enough because the yarn is so fine, but I'm rather happy with the results now that its over. It blocked perfectly.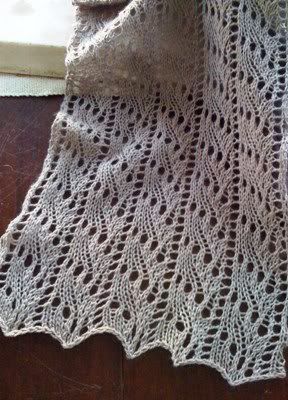 I don't think his mom will actually like this scarf/stole at all. Now that I've met her, I don't think that this is something she would wear. But it's what I've got for her, so she's going to get this. Maybe she'll gift it forward. I love it when people do that with the things I make that they don't like. I tell my little sister that if she doesn't like the hats and scarves I make her, to just leave them casually on the bus and let someone else have their turn with them!
Wouldn't you love to find an abandoned cashmere scarf on the bus?
~~~~~~~~~~~~~~~~~~~~~~~~~