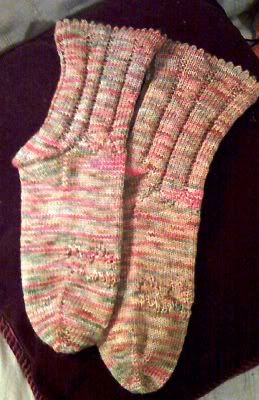 Did I tell you I was knitting a pair of transitional socks? Transitional in the sense that they are meant to help me transition back into my planned knitting and design. I just can't seem to right myself after the bustle of wedding creativity and the thank you gifts afterward. I just can't seem to interested again.
The solution is always socks. What ever the question, the answer is...socks.
These are made from two mini skeins (155 yds each) that I picked up at the local Sheep and Wool Fair a couple of years ago. The resulting socks are slightly short, slightly scratchy, and the dye job on each doesn't quite match the other. That odd looking mess on the instep is actually a purl pattern from a vintage 50's stitch-dictionary booklet that I wanted to try. Unfortunately, it didn't come out anything like the picture.
But, they served their purpose and it was a satisfying quick knit. Rather like eating a bowl of buttery popcorn instead of a meal when you're hungry and tired. Its quick, tasty, and satisfying in the immediate but never gets to the root of your hunger.
I do want to knit or crochet something substantial. But the inspiration hasn't hit me yet. So I started....you guessed it...another pair of socks! These are Panda Bamboo and Soy - soft and very, very splitty.