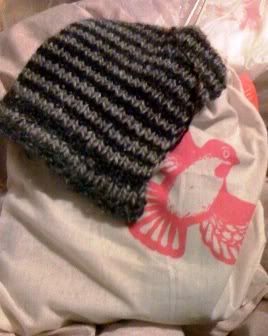 When I was out in Portland, I got to meet a lot of new people and one of my favorites was Sean, who was the best man and a really, really big help with the wedding. I wanted to send him something more than a thank you card, so I've started making him a scarf for winter.
Do you remember BrooklynTweed's
Noro Striped Scarf
? ...Seems like years and years ago that this was first popular! I think it's a classic. I had several skeins of Silk Garden in my stash and had fun putting the colors together for the perfect pattern...
This scarf uses two skeins of the main colours - I used one of my favorite combinations with black, browns in many shades, and greys - and then pairs it with one skein each of two different, more colourful, but similar colors for contrast. I used two skeins that I love best: greens and browns and blues and brownish reds... They seem to be working very well together in a toasty mellow kind of way.
Sorry for the poor phone-camera picture, but you can see a bit: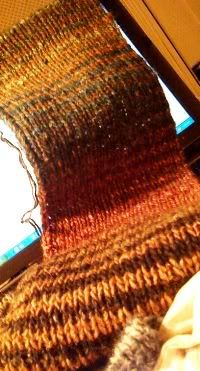 This is a very soothing knit so there's lots of good magic in it! I watch the baseball game and knit away, carrying each colour up the side. It
is
early for knitting winter scarves. But it's always the right time for gifts!