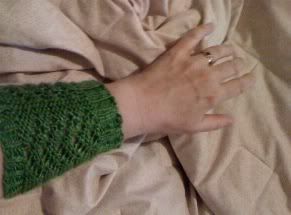 The silk wrister is done. It looks larger and more significant in the photo than it really is, because of the angle of my picture. I don't know why it didn't occur to me that the part of my arm closer to the camera would appear larger than life, but there we are.... It's really only about 3.5 inches long.
This silk really should have been knit on larger needles for a more delicate lace. I used 1.5 and I think I will make another with size 3. I just got some wonderful Hiya-Hiya 9 inch circulars in sizes 1.5, 2, and 3. Perhaps I can use that one. I'm really going for an arm cover that is lightweight for summer to cover a healing wound. Somewhere I have little bit of cashmere left from another project that I think would be closer to what I have in mind.
Next projects:
1. 2-sided blanket of my own design
2.
Juliet summer sweater
in stormy-coloured Malabrigio silk/wool
3. crocheted Crocus Scarf (From Interweave Crochet Spring 2007) in the BMFA sock club May colourway: Pepe le Plume or perhaps in the previous: Gertrude Skein, or perhaps in the leftovers of last year's Lucky...
and here's a bit of summer eye candy - Cape Cod, where we visited the boyfriend's mother on her birthday this weekend: