I just found out that the Fleisher's Style Book that I found this weekend is not from the 40's like the other booklets. It's from 1934!!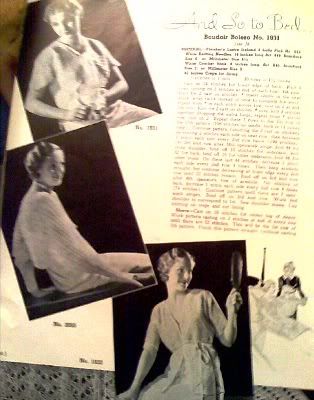 (sorry for how fuzzy this picture is)
This is so exciting, because my collection of Fleishers knitting and crochet books already spans 1898 through 1932. After that, the booklets I had found previously from that company were all from the 40's and 50's.
I love Fleisher books because they are most likely to include equal numbers of crochet and knitting and their books have wonderful pen and ink illustrations of vintage fashion along with the photographs. The patterns are creative and well-written - sometimes very quirky (which I love) - and easily adapted to size and style... The crochet numbers are just as stylish as the knit, which is refreshing. Fleisher designers weren't afraid to use small hooks and luxury yarns for their crocheted designs.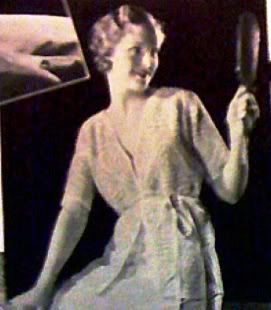 The pictures of sweaters and the robe in my last post are from this same booklet.
Bed Jackets are among my favorite vintage designs. I always think they would make wonderful everyday sweaters. How Luna Lovegood!