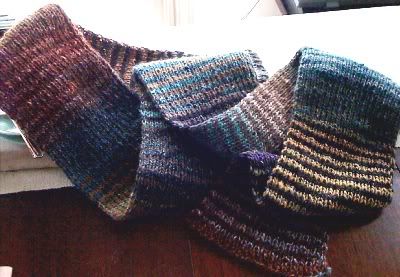 What do I know about Sean? He has an Elven magic and works in a hospital. He is an artist and cartoonist and very kind to his friends. He rocks the turquoise/teal - the colour of his jacket... I think (hope) he'll like this scarf.
Stats:
I used 4 skeins of Noro Silk Garden, 50 grms each
The main colour was two skeins of colour #47 - Browns, Tans, and Black
The first contrasting colour was #244 - Rust, Yellow, Teal and the second contrasting colour was #245 - Yellow, Teal, Turquoise, and Purple
The pattern (from Brooklyn Tweed's website) called for needles size 7, but I used size 5 needles and was glad I did! The scarf is about 6 inches wide on the smaller needles and the stitches are pretty loose. I wouldn't want it any bigger or looser. It was just a mistake, at first. I had an Addi lace needle that I started with and thought was a 7. When I decided to switch to straight needles, and noticed how much bigger the straight sevens were than the Addi I was using, I realized it was really a 5 and decided to stay with that.
The scarf is 6 feet long, but I don't think it matters if yours turns out a little longer or shorter...
I'm really happy with this and the way the neutral main colours really mellow out the contrasting colours. Even though it's July, I'm going to send this off to Sean as a thank you for all the help he gave on the day of the wedding. When he opens it, he'll probably think, "heh?" but when winter comes, he'll wrap up in it and be happy...
~~~
The July shipment of the Blue Moon Rockin Sock Club came early this month (SPOILER below!), because all the Blue Moonies are busy getting ready for the Portland Sock Summit and Marketplace in the Convention Center. When I was in Portland last month, I stayed at the Red Lion hotel that is right next door. It's in a really convenient spot and the train is right across the street and you can get anywhere from there.
If you're going to the Sock Summit - don't miss going to
Twisted
. They carry Blue Moon yarn I hear and I know they are super nice! (I'm in their Single Skein Club this year). And don't forget VooDoo Doughnut: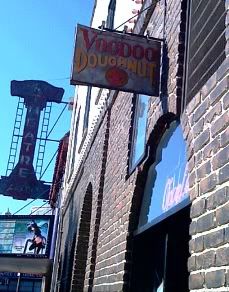 We ate all the funny ones out of this box already - the blunts with red sprinkles on the tips and they also have a voodoo man which is shaped like the gingerbread man and has red jelly inside the squishes out with you poke him...Someone even brought Voodoo Doughnuts to the wedding reception! Very wise idea. a good omen.
Another place I can recommend whole-heartedly is
Urban Fondu
. We spent a really fun evening there and the dinner was incredible - We had Tillamook Cheddar fondu and then had the dark chocolate dessert fondu.
Now for the Sock Club Spoiler.... Definitely
Don't Look
if you are in the club and want to be surprised.....
.....................
.................
................
................
..........
....
...
.
Garden Daze, a riff on Heirloom tomatoes and all things gardeny in this hazy July...picture taken in my raspberry bushes...