If I were a Superhero - this would be my Superhero name: Last-Minute Girl and my superpower would be....Oh, I don't know... taking crappy photos of my FOs with my phone camera just before I stuff them in a box with no time to add even a note and rush to the post office 5 minutes before closing?
Among things now on their way to the West Coast:
Baby Blue, a crocheted cabled raglan sweater of my own design
I love doing crocheted cables. It tickles me that they look so perfectly even - so much better than my knitted cables. This was crocheted in some random washable wool from the thrift store...
Vintage 1909 Baby Sweater crocheted in periwinkle Baby Ull (washable) with an unidentified scrap of yarn for trim. This trim yarn didn't photograph very well - its really purplish, not dark as it appears.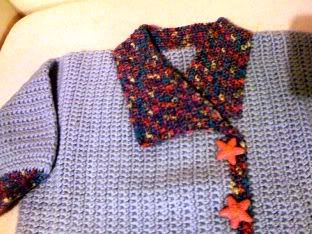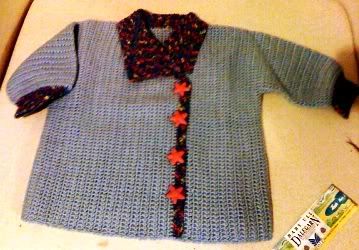 This was really fun to crochet, because it was made all in one piece, including the sleeves, crocheting up and down and shaping around the neck. Those Victorian crocheters were so clever!
That's it for now! Signing off.... Last-Minute Girl!