While my friends on the West coast were at the Portland Zine Symposium, I was searching out elusive vintage knitting and crochet magazines at a local antique fair. Every once in a while, the skating arena in town is taken over by a crowd of antique flea market dealers and mass vintage hysteria ensues. I noticed the sign a couple of weeks ago but couldn't induce any of my friends to come along - no, not even with promises of tea and cake afterward...
So off I went on my own, full of hope and with a pocket stuffed with one dollar bills. When I first entered the door of this huge space, I was disappointed. Few tables were set up and there was a lot of empty space. The goods looked more yard sale than vintage... but I thought there might be some hidden treasures, so I went on the hunt...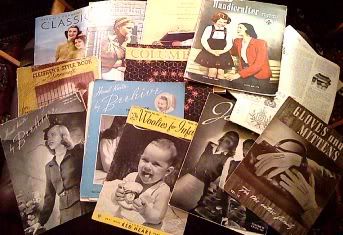 I actually found 4 tables with knitting and crochet. My attention was first caught by a colourful pile of aluminum knitting needles, which I passed up. This same vendor had the stack of 1940's magazines above and gave me big discount on them. The best ones are in the front:
The Fleisher's Style Book, Woollies for Babies, Handknits by Beehive, Jack frost Sweaters
... A couple of them were missing their covers, but had such great patterns that I couldn't resist them, like these crown and pomegranate charts for intarsia or duplicate stitch :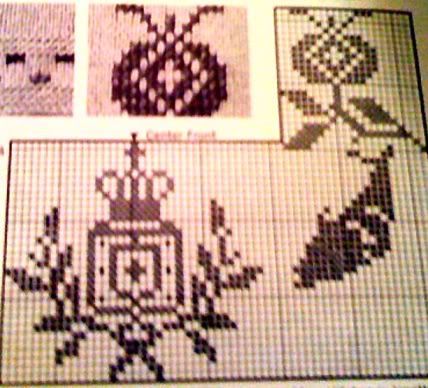 Some of my favorites... the Smart 40's Sweaters:
and this great robe! I think it would be wonderfully cosy to wear a knitted or crocheted robe in the winter, but very boring to make something so big and repetitious.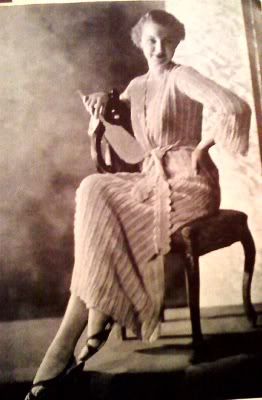 The rest of my attention went to vintage tools: this glove egg for my collection, which will be put to immediate use mending the finger tips (which lasted about a nano-second) of my winter cashmere gloves: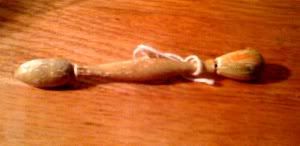 There was one vendor who had lots of bone crochet tools in dishes on the floor (which was annoying because I had to keep crouching down, and then getting up to ask a question, then down, then up, then...well, you get the picture) and on top of that, they were annoyingly expensive (like $30!). I was able to talk him into selling me this tiny, tiny bone and steel crochet hook and ivory thread bobbin for a couple of dollars, but had to leave all the pretty carved hooks on the floor. (tears)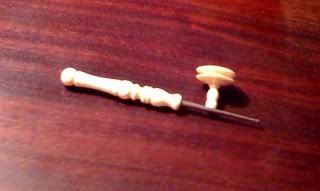 Finally, at the very last booth I stopped, I found a big bin of antique buttons! After I was done pouring through the bins and boxes on the table, the woman said,
"would you like to see my special buttons?"
Apparently, she kept the good ones in a little cedar chest under the table and didn't display them, but I got to look through those too and bought quite a few. She was selling these so inexpensively, that even though I had spent most of my money, I was able to collect three bags full! Here are just a few of the good ones: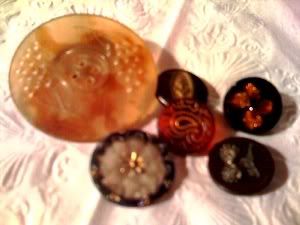 The big one is pressed horn with a pattern of grapes. There is a glass paisley button with gold accents, and a black glass one with melted copper flakes in a violet flower design, some mourning jet buttons, and a complex milk glass, blue glass, and gold carved button. There were many more, but I can't show them all because, well, my friend Marky has a birthday in a couple of months and he is as crazy about old buttons as I am.
The great thing about my button collection is that, since I use them on my knitting I can buy just one instead of holding out for the full sets. So I get really excited with these random single finds! Even so, I fell for two sets: some small coral domed buttons, and 12 really unusual red glass buttons with mother-of-pearl centers.
So the Antique Flea Market was great fun and has set me up with goodies to mull over for while!
I'm completing a transitional pair of socks (transitional between one project and next) right now because I couldn't decide what to get started on. I do have to complete the lace Lily-of-the-Valley shawl, and then might start the blanket design I have percolating in my brain. But I really, really want to start making sweaters for fall! Is it too early?