The Golden Moon Shawl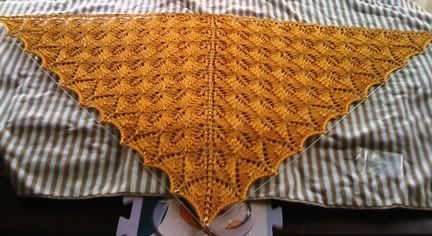 a version of the Shetland Triangle by Evelyn Clark, from Wrap Style...
Yarn: Luscious Silk (sport weight; 360 yards) from Blue Moon Fiber Arts in colourway: Oregon Red Clover Honey; 1 skein
Needles: Size US 9 Addi Lace circular (32")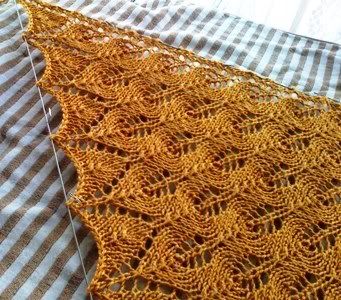 This pattern is so incredibly easy and fast. Just like last time, this shawl took less than 2 weeks from start to finish - and I didn't have all that much knitting time! I used a size 9 needle, when the pattern calls for a 6, because this is a sport weight yarn and the pattern is written for laceweight. The size was just right!
I did end up omitting one entire repeat of the body lace chart (I think it's 14 rows, actually) as well as the last two rows of the edging chart (I went strait to the final two rows which are in the book, not in the chart). Even so, it is just the way I would have hoped.
The yarn is very delicate. I treated it very gently, but still got a slight 'halo' or 'blooms' and a couple of pills. I'm hoping they won't show too much after blocking smooths everything out...
and here is a final shot - it's dark on the colour, but you can really see the stitch pattern.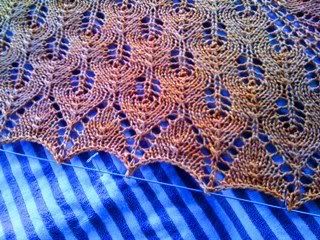 This was actually a blast to knit. I can't wait to make the next one!