its a quiet early fall day here in the northeast, with sunshine and shadows. I don't have too much to report except that my sister had a birthday, and - among other things - I made her some lacy socks: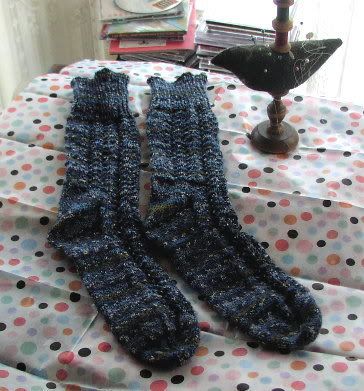 This yarn came from Nadine in Germany and was a dream to work with! I loved the dark blue colour and the self-patterning yarn leant itself well to a horizontal lace stitch... These were knit with size 1.5 DPNs and were my own pattern. I did them toe-up with gussett heels, which is all I do these days!
I also sent the Professor's socks, and here is photo of me trying them on before they were washed and blocked to make sure they turned out okay:
You can't see it very well, but they have a lace pattern of entwined leaves down the front. I call them "Dark Garden". The yarn is silk and merino from STR lightweight and I made them on size 1.5 needles.