I've been watching the new BBC production of Jane Austen's
Emma
on PBS, Sunday nights. I was prepared to hate it - how could the two former productions - Kate Beckinsale's and Gwyneth Paltrow's - be bettered? But I actually like it. I like the way that they've tried to make Emma herself more like a young girl with more imagination and energy than her limited country life allows her to expend. And, of course, I like the fashions.
Mr. Woodhouse's scarf-shawl caught my eye immediately: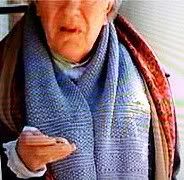 So much so, that I went out the very next day after the first episode and bought the yarn from my LYS to begin a project to replicate it...
It looks as wide as a shawl - at least twice as wide as a regular scarf, maybe more.
This is my plan... I used 3 skeins (250 yds ea) of Swan's Island worsted in Robin's Egg blue and a size 8 Hiya Hiya circular needle.
I started with a cast on of 69, using one st on each edge for the edging and making the pattern on the remaining 67. After some experimentation, I ended up with 20 rows moss st and 12 rows plain (garter st.) knitting. I have done this four times for the end of the scarf, and now will knit moss stitch for the central part of the scarf - the part that goes around the neck - then repeat the pattern for the other end, ending with moss st.
I do think I will put the fringe on the ends; I think it makes it look more old-fashioned.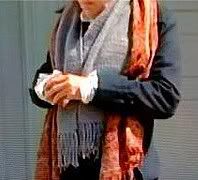 When I'm finished and have all the unexpected problems worked out, I will post this on Ravelry and here as a free pattern all nicely written up and printable.