This post is about tea...jasmine tea...
...but also about knitting...knitting Jasmine.
Some time ago, my friend Melanie sent me a precious tea ball from Canada,
White Jasmine Moon:
This is one of those presentation teas, where the tea leaves are tied into a tight ball around a beautiful flower... in this case, an exquisite white jasmine flower. When the tea ball is placed in the heated water, the tea leaves unfurl and the flower "blossoms", often rising to the top of the water while the open tea leaves settle in the pot...
This one was so beautiful and the scent was perfect for a sultry summer day! The tea was lighter than other jasmine teas I've had, grassy and pure. I couldn't bear to remove the pretty tea ball, so after I enjoyed the two cups that this teapot holds, I refilled the pot with water just to enjoy having the floating flower in front of me while I read and had my morning toast.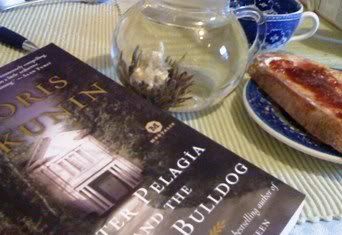 Later today I started a new project while watching the rowing and diving competitions in the Olympics. There is something perfectly soothing about watching water sports on a summer day that's hot and sunny. If I can't be on the water, I want to be seeing the water!
The blouse I'm knitting is
Jasmine
, from Kim Hargreaves'
Nectar collection
: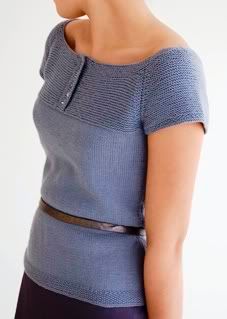 Drinking Jasmine tea and knitting Jasmine... synchronicity!