Friday, again…. And Friday the 13th at that! We had snow yesterday and sleet and freezing rain and I curled up on the couch under a down comforter and finished a pair of pretty blue knitted socks with vine leaves in the front – comfort insulation for this day's dark and sullen mood…
The IT folks have been moody, the inventory folks have been strict and scary, and the bosses have been critical and enigmatic. I want to go home (and I shall, shortly, because I came in very early this morning)!
At lunch time I engaged in some yarn therapy: two skeins of wool and angora in a deep soft blue like a Maxfield Parrish sky, and two skeins of pure silk in a light soothing blue: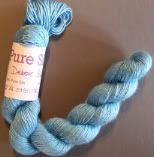 The silk could become something like this (if I buy more on subsequent yarn therapy outings):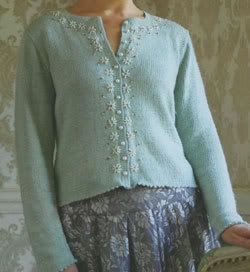 But more likely I will knit up a pair of silk stockings from one of the antique 1800's patterns that I have for
Lady's Silk Over-the-Knee Stockings
. Although I have other larger projects I'm finishing up, (remember the green linen shrug?) my new and comforting goal is to knit a collection of socks and stockings. I want socks for crocs and socks for shoes and socks for summer and socks for skirts and socks that need garters and socks for sandals with no toes or heels! I want wool and alpaca and silk, and angora and bamboo and soy fibers! (lots of wants, I know).
Sock knitting is almost instant gratification. You can knit until you run out of your skein if you want or you can abbreviate your sock to finish faster. You can stop your sock knitting to do something else, and then come back to it and finish it in an evening! The feeling you get when you take a finished object off the needles is …..
bliss!
. Couple that will a happy recipient (even if that recipient is yourself and your cosy toes) and it's heaven.
On my way to the yarn store, I stopped at the bakery (an authentic European bakery where the owner/baker doesn't speak English and everything is made from scratch each morning) and bought a little heart shaped cake for the ladies of the yarn store. It was a tiramisu cake! All three were there today and were very happy to have a treat on a long dark day…. especially my friend Dee who crocheted me the most beautiful green shawl when I was so sick.