I visited the yarn store,
Twisted
, again, even though I hadn't planned to go way out there again on this trip. Now that I knew where to go, it was smoother, but still several blocks of walking up Broadway after getting off the MAX and finding my way through the Lloyd Center... I had to go back though, because they had forgotten to charge me for the tea we had at our last visit and it was eating at me... I had to back and pay it!
I'm so glad I did. I think my "sock knitting mojo" was calling me the whole time. They were having a Sock Sale to celebrate a neat sock class they're going to be running. All sock yarn was 10% off and sock accoutrements had even deeper discounts! How could I not fall to this temptation?
I know, this is inexcusable stash enhancement!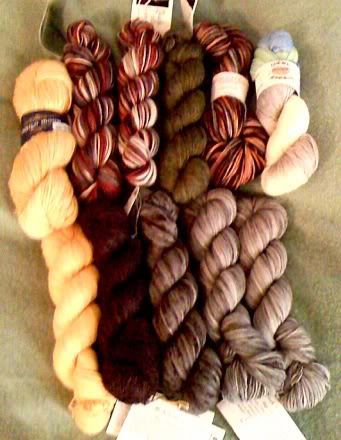 The golden wheat skeins you see are for the person who's been checking in on my cat, who needs drops in her ears twice a week. This person has also been cleaning up after her, so deserves a really nice treat. I got her Indigo Moon and Black Trillium Fibers sock yarns...
Black Trillium is a new company for me. I discovered their Blue Faced Leichester sock yarn at Twisted. It is unbelievably soft and the colours are incredible. On top of that, BFL socks are supposed to be especially hard-wearing because the fibers are so long. Here I have 2 black and red, two grey and white, one grey tweed, and one deep seaweed green, and one deep blackberry - a kind of combination of blood red and deep purple... Other skeins shown include an Artful Yarns sock skein in a beautiful fall colourway (I've forgotten the name) and a Chewy Spaghetti skein in my usual blues and sea greens :).
I also indulged in some really tiensy sock blockers - one infant sized that I figure I'll be able to use for 2 - 3 years, and one child sized that I think will last until about age 8 or so? The baby blockers were only $5!! Twisted does online orders too, if you're interested....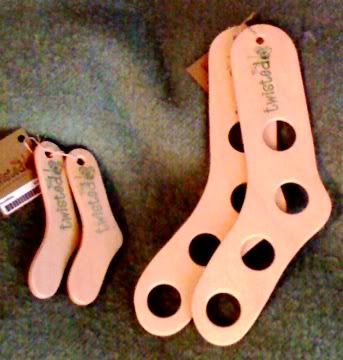 Things here are going well. This is a bustling, lively city and the part where I am is beautifully green and full of gardens. Sometimes the view out of the big picture window is very interesting. Take last night, for instance. Since the apartment buildings in this section of town are non-smoking, people often gather across the street under a spreading shady tree to smoke. Yesterday someone put out an old red couch for their own smoking convenience. It was used all day for this purpose. But when night fell, and the apartment-dwelling smokers were cosily inside, another purpose emerged... A homeless couple, with their belongings in bags and sacks, moved in and proceeded to sort, and squabble.
We had all gathered to watch
The Neverending Story
and
Wolverine
when the beginnings of a real fight broke out. The very tall hefty man had taken off his shoe and was threatening the very slight, short woman with it. We saw him push her down and raise his fist and thought that some intervention was called for. B yelled "Hey" out the window to let him know he was being watched (this caused him to immediately lower his arm and step back but muttering, yelling, and threatening all the time while the woman pursued him) and S called the police for the woman's protection. While we waited, the couple continued fighting and then finally wandered into the neighbour's sheltered yard for a make-up session.
A few minutes later the police arrived and, finding the clothes and belongings on the sidewalk, began to search the yard. We turned out the lights and peeked out through the fan blades. Sure enough, they found them under the bushes and herded them out to the sidewalk. They sent the woman in one direction and the man in the other, with a verbal warning. As the police walked back to their cars, one said to the other "I was hoping a call would come in - it's been a quiet night." so we felt we had done our duty for all concerned.
At midnight, when I looked out, a lone figure was wrapped in a blanket on the red couch under the trees, silently sleeping. I predict that couch will not stay there for long.