A wonderful package arrived here from Germany yesterday! Aren't these kiddie stamps great!?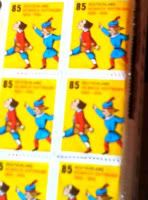 My dear friend Nadine sent the most
wonderful
box of goodies for the baby! We all enjoyed them and it was so fun opening the box, because she had hidden each item in layers of tissue paper.
I'm afraid I didn't get very good photos because I was so excited opening the box with the rest of the family, but here you see....
in the foreground, a super soft blue and tan Baby Surprise Jacket with a special Nad-designed front placket with wooden buttons, and a matching hat (modeled on a squirmy baby):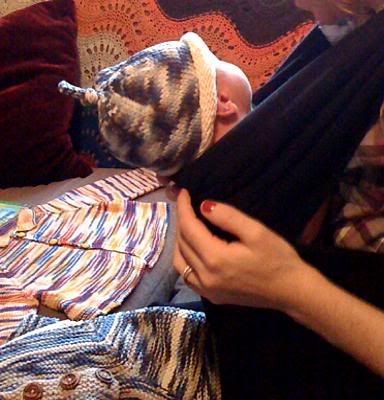 In the background is a most beautiful sweater that made us all go "Oooooohhhhhhhh!" when we lifted it from the box. It is so gorgeously done in the softest of fingering yarns and the buttons are little tiny yellow turtles!! The little collar is soooooo sweet! And the turtle theme goes with a charming little book she included called "Happy Birthday Franklin" which we started reading to the baby immediately.
The next one I'm showing is a baby Tomten jacket. Nad is an incredibly accomplished knitter!! I really love the colours. This is so perfect and Jule said "It has a hood!!!!!!" when she lifted it out: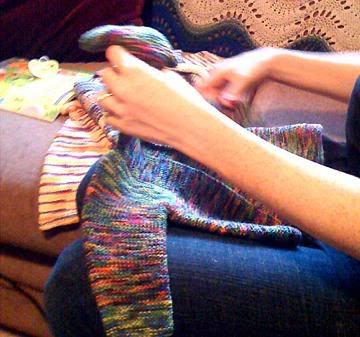 There were several hats and hoods, including two pixie hats that seem to be from a vintage pattern - perhaps something that is handed down in Nad's family? I only say that because I've never seen this pattern before and it is incredible - a perfect hat and yet not something you could figure out by looking at it - it has complicated looking increases and decreases to make the points and peaks. We all loved them - I especially loved this blue-green one in the picture (and it has a pair of tiny baby socks to match!) and the parents loved the fair isle one (which unfortunately you can only see in the background of one of the pictures...). Sorry the baby was so wiggly - he blurred this photo a bit (of course we had to try everything on him and he got a bit impatient):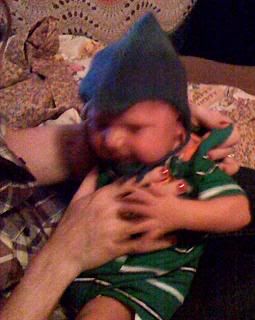 All in all, Nad sent a whole basket-full of gorgeous hand knit and beautiful baby things, including clothes she got on a trip to France so our sweet little one is quite "Continental" now!!
I couldn't get everything in the photo, but there was:
Blue-green pixie hat and matching socks
Fair Isle pixie hat
Blue & tan Baby Surprise Jacket and matching beanie hat
Yellow and red and blue jacket with collar
Green and red and blue Tomten jacket with hood
Short sleeved French baby onesie
Long sleeved French baby onesie
Baby Blue Jeans!!
and a Franklin Turtle book!
I hope I didn't forget anything - there was so much!
What a well dressed child this is. :) His mom said "He'll be a well-sweatered baby with all the hand-knit sweaters from you and Nad!"