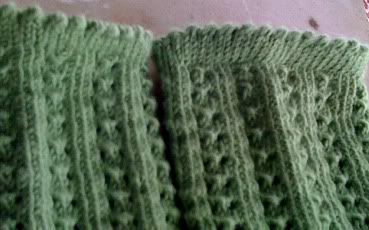 It's coming on Christmas
They're cutting down trees
They're putting up reindeer
And singing songs of joy and peace
Oh I wish I had a river
I could skate away on

I wish I had a river
I could skate away on
I wish I had a river so long
I would teach my feet to fly
Oh I wish I had a river
I could skate away on
I can tell that Christmastime is coming... It's been snowing - lots - and kids are ice skating in the streets (no traffic)... and the only movies on the TV are sappy Holiday romances (girl returns to hometown, finds love she left behind, rejects him again, snow storm strands them alone where they become convinced that life together is not that bad, Christmas marriage, Rinse, Repeat). I can also tell its Christmas because I have projects that I can't reveal on the internet. Was there ever a time when you could post your holiday projects and your entire social network wasn't watching?? I didn't think so, but thought I'd ask....
Finally, though, I've completed an old WIP and it's just for me, me, me!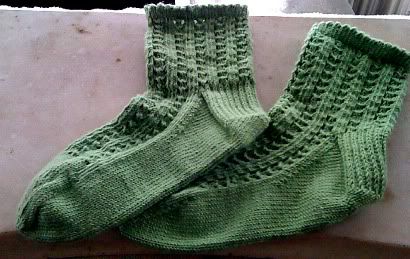 Simply Lovely Lace Socks
Yarn: 2 skeins Debbie Bliss Cashmerino
Needles: DPNS US size 0
Size: Women's 6.5 (small)
I started these Simple Lace Socks (which are not simple, may be lace, and are definitely socks) when they first came out in a summer edition of Interweave Knits. It was 2006. Does anyone else have socks they've worked on for FOUR years? I made classic mistakes: I used Debbie Bliss Cashmerino - not a sock yarn - and chose the smallest needle size in the pattern, which was meant for light fingering weight - size 0 -
and
I used the cast on and stitch count for the lightest yarn choice. This all resulted in the tightest lace stitches imaginable: not a comfortable or enjoyable knit at all. I struggled through the first one, just past the heel gusset and then, understandably, abandoned these in favour of other things.
But I always remembered how pretty they were and how perfect it would be to actually wear them with my summer shoes... So this year, in spite of the ever increasing holiday obligations of handmade gifts, I pulled out the project bag in which they slept, woke them up, dusted them off (so to speak), and whipped right through them. The only glitch...and one you can't see because of creative picture-taking... was that I ran out of yarn for the tip of the final toe graft of the second sock - I needed only 5 inches. Yes, 5 inches of yarn!
I used a bit of Cashmerino from the odds-and-ends bin... It was purple.