It's hard to imagine that almost four months have passed since we had a new addition to the family. Although I've made a lot of baby things - as my project pages on Ravelry will attest - I haven't made as many as my friend Nad, who is a kind of knitting wizard!
Here you can see the results of her nimble fingers: a Baby Tomten being modeled in action.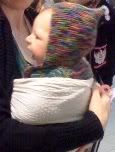 She used a beautiful multi-coloured fingering weight yarn (which must have taken forever on little needles) and all the colours blended so perfectly. I highly recommend this pattern, although I haven't made it myself. It's easy to get on and off a wriggly baby and has that adorable pointy hood! This particular Tomten is getting a lot of use!