I finished the Tellum cowl (sorry for the crappy photo-in-the-mirror phone picture):
It still need a button (the one in the photo is just sitting on top, not sewn on) and weave in the ends. Its just what I wanted... a neck scarf without long ends. And I love that it's also a hat. I love to walk in the rain, but I hate the feeling of cold winter rain on the top of my head! and it's just cool that it's convertible.
Today I wanted to show you a most beautiful gift that a friend sent me some weeks ago:
It's an antique crocheted purse, of course, crocheted tightly from silk twist and it's design is crocheted in with steel cut beads. The fringe and tassels are twisted beads and their cut silver sides form a unique sparkling architecture.
These beaded purses amaze me. I always imagine the person who might have painstakingly made it, counting out one of a couple thousand tiny beads, then another and another, following a complex pattern.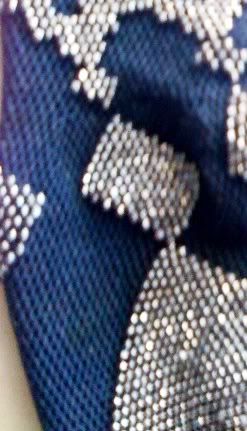 That's one of the things I love about vintage pattern books - the connection with the actual person who used them. Some of the booklets, like the Fleisher Knitting and Crocheting Manuals, have beautiful pen line drawings of knitters and crocheters going about their happy pastimes. They read by bow windows and ski in hand knits down small natural slopes, and gather with friends to window-shop. And all the time, they're creating these beautiful items that take so much skill and detail. It really makes me want to up my game, and stop doing small instant-gratification type projects. Well, I can dream. :)
Oh, by the way, last night I ordered another set of needles. I got the notice that they had shipped this morning. This afternoon, I found my original unused set, in the very place I had looked all week. It must have happened for a reason, but my poor credit card is saying "ouch!"