I don't think I've mentioned that I finally wrestled my way out of my knitting funk (by way of socks, naturally) and embarked on a summer sweater. I chose Juliet, by Zephyr Style Knits: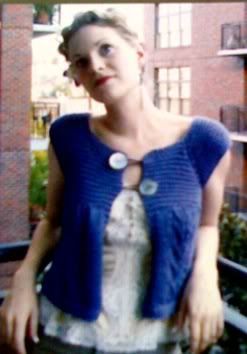 As usual, my favorite style is a raglan, knit top down all in one piece. I wanted a significantly lighter weight - the pattern calls for a worsted weight yarn held double on a size US 10.5 needle - so I'm using fingering weight on size 9. As you can see, It's loose and airy. I've just done one repeat of the lace pattern: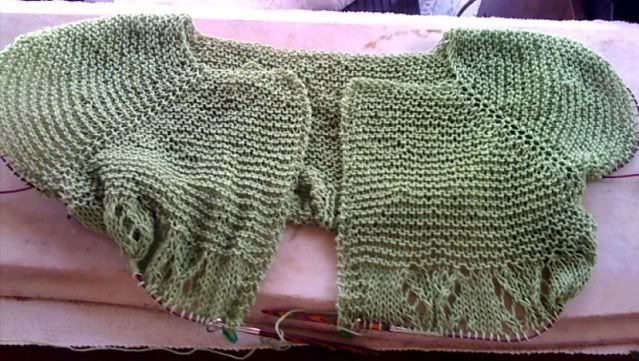 The yarn I'm using is Plymouth cotton and silk - very soft and drapey; in fact exactly what I was looking for. This pattern is so easy I don't know why I haven't done it before. My only excuse is that I'm a terrible slacker and prefer fast projects with as close to instant gratification as I can get. If more sweater patterns were like this, I'd get a lot more done. I shy away from set-in sleeves like a horse from snakes. And don't even mention a sweater that's knit in five pieces and then sewn up!
I've been knitting on this while watching the Red Sox - Yankees series this weekend. One more baseball game today, but I don't think it will be quite enough time to finish this sweater. The Friday night game was very knit-worthy because it went into 13 innings, starting at 7 and ending close to 1 am!! Sadly, we are losing badly. What's with the Red Sox these days?
Oh, sorry - back to knitting.... Oddly, this vintage glass button looks much more green in person than in this photo: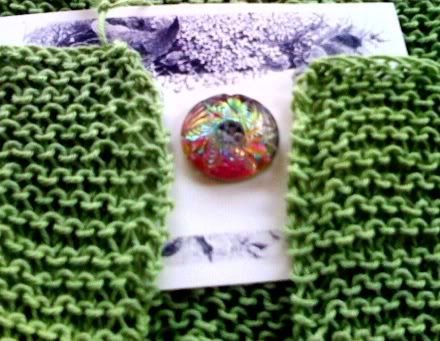 I'm not sure if this is the right one, and besides, the pattern calls for two buttons. What do you think? Should I use this one or search through my box for two others? How about two vintage mismatched buttons?
In other news, I think I've placed my last yarn order of the year, unless there's a sale at Blue Moon Fiber Arts in the winter. Economy woes have started to trickle down and my place of work is going to have 9 unpaid days a year for two years (though I doubt if they'll ever re-instate them). Actually, they've decided that that these unpaid days will be holidays, so that means we no longer have any paid holidays at all. On those weeks, we'll just get a smaller paycheck.
Merry Christmas, folks. Thank you very much Mr. Scrooge. This sock of coal is just what I needed to warm my little hands.
(oops, sorry - just imagining my future!)
But I know you want to see this last order, don't you? It's very beautiful!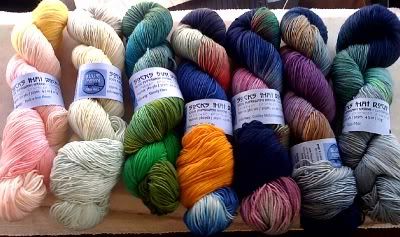 These are all lightweight sock yarns (STR) and the colourways are Peekaboo Peony, Siren's Song, County Clare, Sockgate, Crabby McCrabbypants, Beached, and Sea Mar. I have no ideas yet for how I'll use these. All I can say in my defense is that I had a gift certificate for Blue Moon and I was seriously envious of all my friends who are out at the Sock Summit at the Convention Center in Portland Oregon right now, and especially at what I can only imagine is the best yarn marketplace ever.... My timing is flawed. I'll be in Portland in 3 weeks... Don't eat all the VooDoo Donuts, guys! Save some for me!