I finally decided to post my summer sweater project, which I finished last month. I've been waiting to see if I could get someone to take a photo with me wearing it, but it doesn't look like that's going to happen. So, here is....
Juliet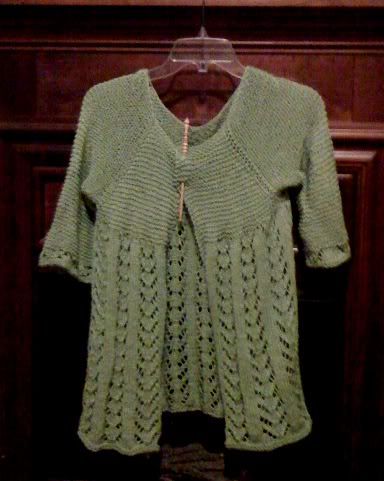 Yarn: Lyndon Hill from Plymouth Yarn, 85% Pima Cotton, 15% Silk, 218 yds per skein, colour 101. I used 6 skeins because I wanted extra length.
Needles: Knitpicks Options circular, US size 6
Modifications: I added an extra half-skein to each sleeve and finished the sleeves with one lace chart repeat. They are 3/4 length on me now. I also used one extra skein for sweater length and just kept repeating the lace pattern. It's pretty long now - lower hip length.
This yarn is fingering weight and very drapey and light. The pattern calls for a bulky yarn or a worsted weight held doubled. Obviously I just ignored that and made a more lightweight summer sweater. I think it's going to be perfect for wearing over my sundresses at my air-conditioned work. I'm not really a fan of garter stitch sweaters but on this design it works and certainly makes it a very quick knit! Or... it would have been quick if I hadn't set it aside for a whole month.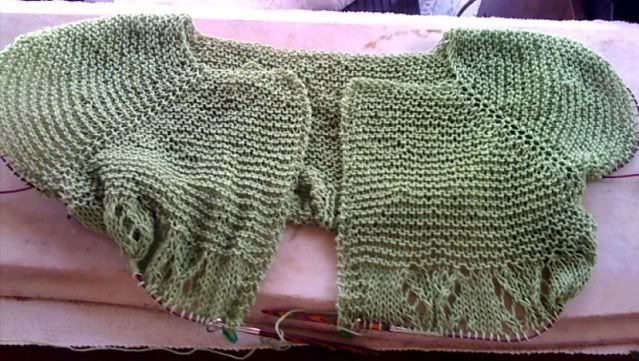 I plan to put just one button at the neckline - I doubt I'll ever wear it closed. But, wouldn't you know, I had a beautiful green glass button that a friend gave me quite a while ago set aside to use and as soon as I finished the sweater, I lost the button! I have an alternative and will make a crocheted loop at the neck edge, as the pattern advises.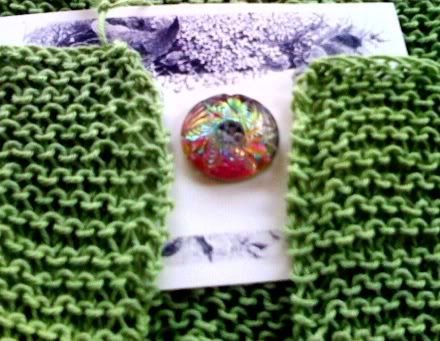 Making this sweater was so gratifying! I hardly ever knit or crochet anything for myself so it's almost a guilty pleasure. I love it inordinately and think I'm really going to like wearing it next year!