I made a hat for a writer friend of mine, Brodie. He likes orange (and the word "Grackle"). So now I have a new stash of orange-themed yarns with plans for more Brodie knits!
This hat is the fabulous
ZeeBee
, which is short for [Elizabeth] Zimmerman Beanie. Schmeebot has kindly robotized her pattern so that all you have to do is enter the head measurements and all your knitting schematics are magically generated! It's a short-row crown that creates a gentle curve up from the brim. I love its simplicity. It makes a short sharp statement of the yarn colour itself. It was extremely fast and only tricky when doing the garter-stich graft. It's lovely when done! And... a perfect October pumpkin-substitute, don't you think?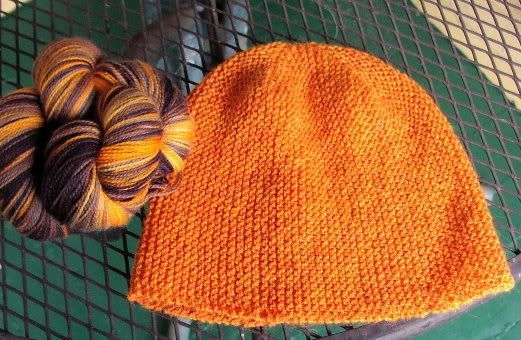 I knit this with one skein of Reynolds
Whiskey
yarn on size 6 circular Addi Turbos. That yarn has the most interesting colours. (I've just bought a robin's egg blue for,... well,... robin's eggs! More on this later...)
Next to the Grackle Hat, you can see an auntumn gourd-y coloured yarn that I thought would make the perfect winter scarf to go with it....