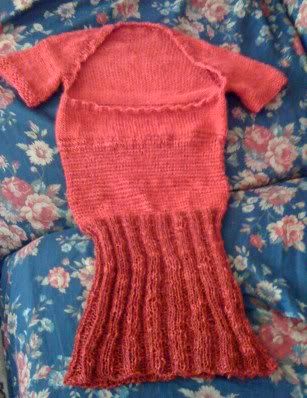 While I have been working studiously on my Sample Knitting for
A Stitch in Time
, I have had another project in the basket for times when I was in a public setting, etc.
This project is
Scarlet Woman
, a silk top that I designed to be a vest.
Don't you think the colour looks like American Beauty roses?

I imagined it with a tiny white voile collar and ruffled puff sleeves peeking out around the edges. But when I finished the bodice, I realized that it is a lovely blouse all on its own - a vintage-style design with a low (but fairly modest) neckline and body-conscious fit. It's long, long, long and snug but not too tight. I wish I could show you a photo of it on, but none of the photos I took in front of the mirror came out at all.
Scarlet Woman is now winging its way across the country to its recipient, my beautiful little sister, and I'm hoping to wheedle a photo or two out of her when she tries it on!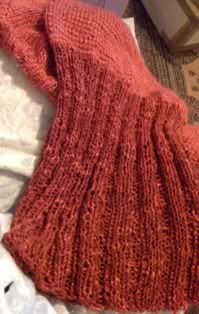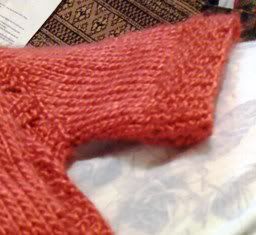 I've signed up to be part of Ravelry's download store, and as soon as that happens this pattern will be available there. Right now I plan to charge a small amount for it, to help defray my sister's college fees, but one way or another, it will be available. Non-Ravelers (if there are any in the world) also have access to Ravelry's downloads if the designer makes that happen.