Those of you who are on Ravelry will have heard that on May 29 one of our favorite companies, Malabrigo, suffered the loss of their mill in a big fire. The good news is that because it happened at night, no one was hurt. The bad news is that they lost the entire stock that they had in the mill at the time, as well as their entire record-keeping system.
You can read more about this
HERE
and then some details on the
Malabrigo Blog.
When I heard this, I felt powerless to help. This is company that, from the beginning, has been very responsive to us, their customers, and treated us like valued friends. Their product is high quality and just gets better and better. The only thing I could think of was that buying their yarn would ensure that when they are able to begin producing again, the demand will be there. Its win-win. At least, it couldn't hurt, right?
A local yarn store,
Knit New London
, had written in thier recent newsletter that they had just gotten a new shipment of Malabrigo. My closest store had only a couple of skeins. So I headed out to New London for my stash enhancement.
Here is the floor to ceiling stash of Malabrigo that Knit New London carries (the center row of bins right in the middle of the photo):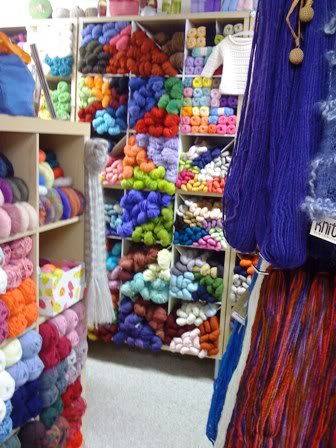 I chose a new colour, Pearl Ten, which is a brown mauve, and Tuareg, which is a marine-tourqoise blue with shades of light blue. You can see them in the store's stack as the very first top bin on the right and the first blue-ish bin on the top left.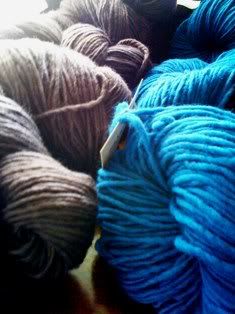 It was a rainy afternoon here in the Northeast, so I spent a nice long cosy time at the store, investigating everything including some new blown-glass buttons and clasps from a local company called Moving Mud, and one somehow ended up in my purchases...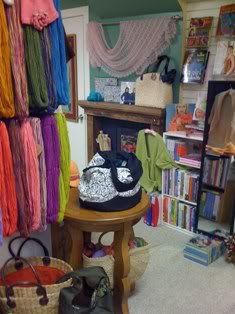 Knit New London likes to carry a lot of locally produced stock and had several bins of a wide variety of fabulous Farmhouse Yarns, including their beautiful sock yarns and gorgeous 100% bamboo. In the end though, I used my yarn budget on Malabrigo. I was there to support them after all. I won't reget it when Fall sweater season comes around.