This is what the world looks like today - my small part of the world, anyway...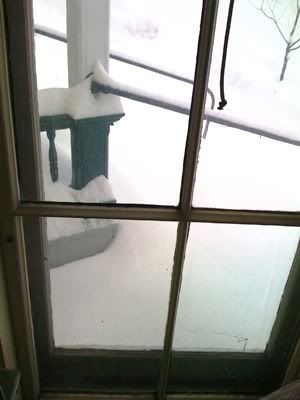 Pillows of snow have fallen during the night and now, in the weak sunlight that is struggling to lift its head over the covers, sounds are muted, colours are weak, and a kind of small silence has enveloped this neighbourhood.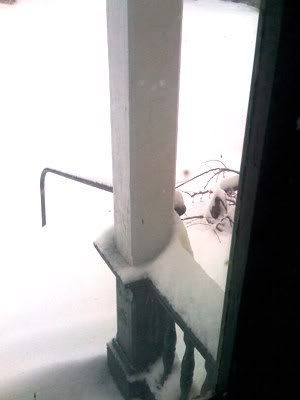 I imagine everyone cosy in their houses, performing little domestic tasks in warm kitchens: eggs scrambled for the little boy visiting his great aunt on the corner; my near neighbour having a second cup of coffee at her kitchen table, the Sunday newspaper propped against her sugar bowl; on the other side, my far neighbour weeping as she scrubs the dishes, grieving for her girlfriend who stormed out yesterday with cardboard boxes of possessions;
...on the next block, even the churchyard is quiet, as few people brave the 6 inches of soft slippery snowflakes on the roads...
In a minute I'll be in my own kitchen, in the back of this old rambling farmhouse, making tea and reading mysteries... preparing to frog what was meant to be a Christmas sweater gift...
and perhaps later in this snow-deluged day I'll transform its awkward lines into something soft and comforting, like
THIS
.