My plan for March was to post only about crochet, but my new winter hat is finished and I'm excited to show it. "
Winter
hat? you ask, "Isn't it spring in March?" Oh, ha ha ha.
Here is some weather - yes! another snow storm! - from out my door yesterday...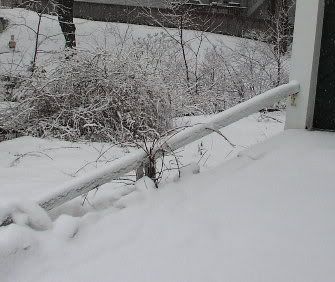 So you know I need a new winter hat! I lost my last one, my Top-Down Silk Garden hat in a snow storm (it probably got buried under a snowbank while I was shoveling) and a good friend in Seattle mailed me another skein of Noro SG to try again...
I call it Jackie's Acorn, because of the design and use. Its for walking Jackie the Corgie and his brother, Teddy, and because of this, I wanted it to come down over my ears....
I used short-row shaping to make the sides and back just a bit longer than the front. The crown has an upside-down acorn shape so it will stay on over my long hair that I coil into a bun up inside. There is a falling leaf lace pattern, and a bit of colour added with some left-over bits of sock yarn from my Regia candy-apple stockings.
The Jackie's Acorn Hat pattern is available now.

Finishing my hat was exciting, but yesterday was double-exciting because I finally went to Webs in Northampton, Mass! Today is my birthday and I was treated to a stash-enhancing trip. All I can say is that the real-life shop is 10,000 times better than the website and that if you can get a chance to go there, do. On second thought, don't, because I want all the yarns for myself! I concentrated on picking up yarns that I can't find around here or that are expensive to buy from online vendors. Webs gives you 25% off full-priced yarns if you buy a certain amount, and their full-price prices are lower than online prices to begin with.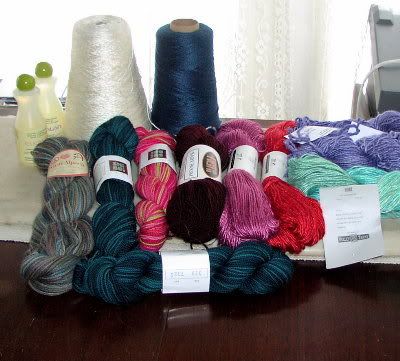 Here you see a cone of lace-weight silk from an odd-lots bin (it was less than $10) and a cone of lace-weight merino-tencel. Hand-dyed misti alpaca lace-weight, Shibui sock yarns, Fiesta Baby Boom sock yarn, two pure silk skeins, and two types of hand-dyed silk and wool. I also picked up some Eucalan in the new 'grapefruit' scent. What you can't see here (because she reads my blog) are the birthday gifts I added to my basket for my knitting friend!
The Webs warehouse out back is another world, with bins and bags of well-known yarns at 1/3 the usual price or less...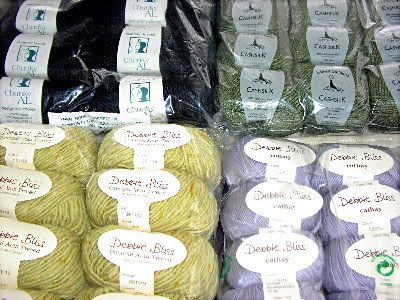 I got enough yarn for four sweaters: Lavold chunky alpaca for the Drops swing Cardigan, Laines du Nord Green Cashmere and Silk (20 balls) for a spring sweater for me, Some Debbie Bliss aran tweed (the butter yellow yarn) and a bag of Debbie Bliss Cotton & Silk for a little cardigan from her Pure Silk book.
and, finally, the patterns: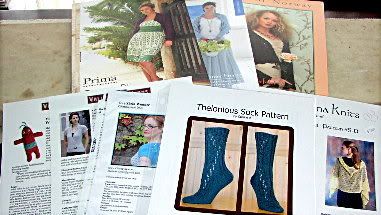 The top books are new spring designs from Debbie Bliss, Rowan, and Dale of Norway. The single patterns: A little doll for charity knitting and the Valley Jacket from Webs designers (the girl who rang my items up was the designer of the jacket), the one-skein wonder from Glampyre (I know - I'm years behind on making this), and *finally* a Cookie A sock pattern - Thelonius, and lastly, a St. Seraphina shawl, the Pemberley - not a challenging pattern, but I couldn't resist the name!
So there are the spoils from my very aquisitive yarn trip yesterday... today I am off on a search for vintage pattern books. I guess self indulgance is the theme this weekend!