I am almost done with knitting diaper covers. This week's edition is the
Plain Wrap from Warm Heart Woolies

.
This style is a more modern and convenient update of the vintage "Pilch" patterns that are knit like a triangle and fasten in the front with buttons. I can only imagine how difficult little buttons would be while trying to diaper a wriggling baby.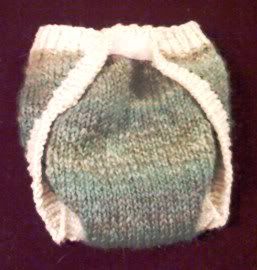 These fasten quickly and simply with a very soft Velcro. I had to search around in the Velcro boxes and packages to find one where the hook side was as soft - or almost - as the fuzzy side. It can be found! It just takes some time and searching. It's marked "extra soft". The sales ladies at Joann's Fabric Store thought I was nuts. But I did find it eventually.
This yarn - on both of these - is from a fantastic Etsy seller,
Shunklie
. The yarn is handspun and dyed in beautiful soft colours. I was in love with these skeins. There is a lot left in each skein so I may make some baby sweaters, too. There's nothing like a handspun natural yarn for some precious baby knits...
So, really, I'm done with this end of the baby - at least for a little while. What should I make next?