Now that Flash Kelly has opened his birthday present (he couldn't wait until Wednesday), I can show you what I made him. This is the
Space Invader baby hat
, made man-size (and a big, brainy head it is, too!). I used the recommended yarn, Cascade 220, in black and cream. I know it's late in the season for a wool hat, but it's what he wanted and I have to admit, I wore a furry ear-flap hat when I was walking the dogs yesterday so perhaps he'll get some use out of it before next winter.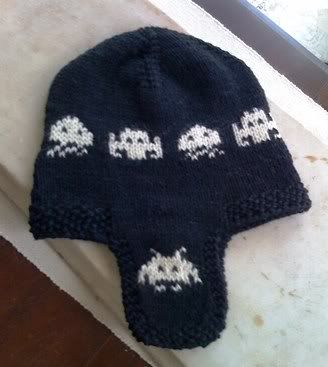 This was my first intarsia knitting ever!!
The pattern, which is written for baby size, doesn't give directions for up-sizing. I used my One Skein Top-Down hat pattern to make this hat, using just the charts for the intarsia space invader guys from the original pattern. The hardest part was figuring out the size of the ear flaps (I had to redo them when one came out smaller than the other) but it worked perfectly in the end. The opening between the ear flaps is twice as wide in the front as it is in the back. If you want to make one, my hat pattern is on Ravelry (button on the left takes you to the download) and you will need the original pattern for the space invader charts and placement directions. I suggest figuring out your maths for positioning the ear flaps on this adult size before you actually start them, but after you've finished the body of the hat.
Of course, as soon as I finished this I had to make one for the baby too: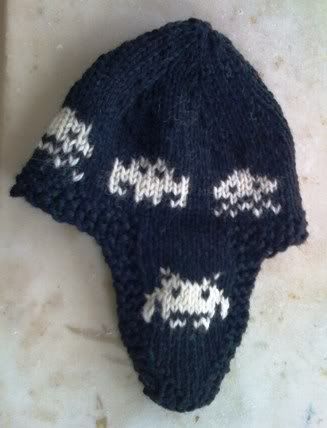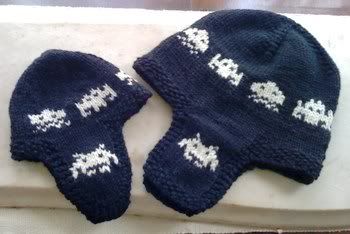 I learned some things about intarsia while knitting these hats and was so chuffed to have learned a new technique that I wanted to apply it again immediately! I chose the baby sweater pattern
Baby Sophisticate
(you can find this free on Ravelry) and designed my own intarsia pattern on it. I think it looks like a sweater that a college professor would wear in the library: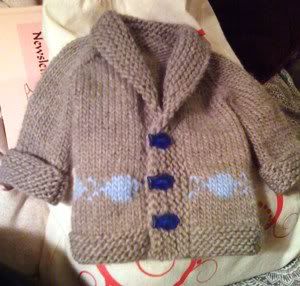 The yarn is Sublime organic merino, just a little over 1 ball and a bit of a second colour. This yarn is very loosely plied so it knits up like a single ply yarn. It was such a pleasure to knit with and so soft!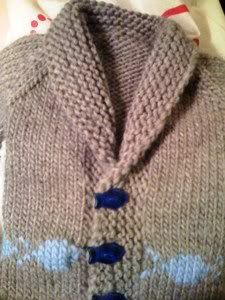 The pattern itself is super easy and took just two days to complete (good Masterpiece Theater knitting). The pattern is plain, but having just learned intarsia, I had to try it out again. I graphed a school of fish and applied it in blue. They don't look much like fish really - I toyed with the idea of embroidering details on them, like eyes, to try to make them more obvious but rejected this as over-kill. With the blue fish buttons, I think the suggestion of fishes is subtle but works okay...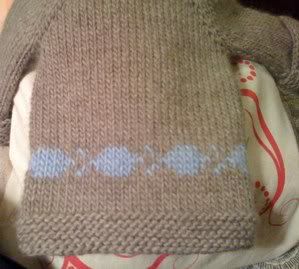 If you make this sweater pattern, I found that it ran very small. I used the 3-6 month size but at gauge it came out a small newborn size. I hope that it will last a while; babies grow fast! The good news is that the pattern is so fast and easy I can make another in the larger size with no trouble.