Some time ago, I came across a stack of books from the 40's in the thrift shop, that had evidently been donated by the same person. It was the "Successful Living" series, "Books For Every Need". The titles included
Successful Living
(probably the first written, and when the publishers saw how eager everyone was for information on how to live the good life, they jumped right to it and published quite a bit more),
The Home Mechanic
,
The Book of True Stories
,
How to Control Worry
,
Home Book of Party Games
,
New Book of Etiquette
,
Why Be Tired?
,
Calm Your Nerves
,
Lo, The Former Egyptian!
,
The Book of Indoor Games
,
How to Write for Money
, and
Sewing for the Baby
.
Guess which one came home with me?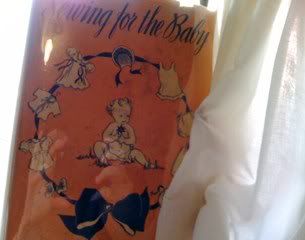 I'm sorry my photos today aren't very good. I was actually rushing to get to work for a meeting and quickly snapped all of them in the kitchen window for some sunlight - weak, spring sunlight. If you look closely, you can see the reflection of my face, hands, and camera in the shiny cover of the book!
Interestingly,
Sewing for the Baby
is a lot about
Knitting and Crocheting for the Baby
! After the introductory chapters that tell you what you'll need for baby clothes and accouterments, there are lessons on embroidery, knitting and crochet, and then each chapter addresses patterns for clothing and bedding.
There are good size charts:

4-month old
chest = 20 inches
waist = 20 inches
waist to ankle = 17 inches
length for sleeper = 31 inches
2-year old
chest = 21 inches
waist = 20 inches
dress length = 18 inches
romper length = 22 inches
neck to ankle = 33 inches
There is even a list of "necessities for the first 6 months":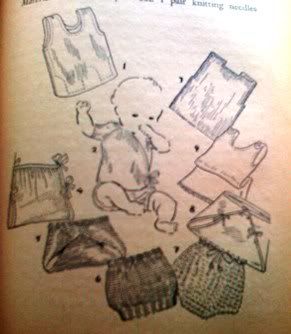 3 flannel abdominal binders (
apparently worn to cover the umbilical cord stump until it dried up and fell off
)
4 cotton knitted vests
4 shirts with sleeves (cotton, cotton & wool, or wool & silk)
3 to 4 dozen diapers
6 to 8 soakers (diaper covers)
4 to 6 baby pants
4 nightgowns
2 kimonos
2 cashmere or wool wrappers (!)
1 wrap with hood or bunting
1 dress coat with bonnet/hat
2 short sweaters, jackets, or sacques
2 knitted bonnets
2 fabric bonnets
4 to 6 bibs
4 - 6 pairs of bootees
3 - 6 dresses or rompers
2 cotton receiving blankets
2 - 3 wool wrapping blankets
1 carriage blanket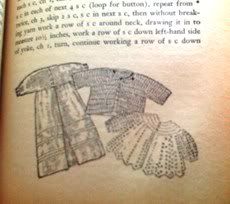 and...
2 quilted cotton pads (18 x 34 inches)
6 quilted cotton pads (18 inches square)
1 waterproof pad or sheet (17 X 18)
4 cotton percale sheets
2 large bath towels
3 face towels
3 knit washcloths
Bed blankets and comforts (toys)
and...for the older baby 4 months to 2 years....
3 knitted creepers or rompers
1 knitted play suit
1 knitted snow suit
3 fabric rompers
2 pullover sweaters
2 overalls or Sunny Jim play suits
1 butcher-boy jacket
1 corduroy coat
1 flannel coat with matching hat
4 shorts and 4 pants
1 jacket sweater
knitted gloves and mittens
knitted cap
knitted hood for very cold weather, with or without ear flaps
They recommend using bright colours for these clothes - "bright red, Kelly green, bright blue or strong orange" because "children react happily to bright colours>"
I have these bright colours for my baby knitting:
Both of these are from the wonderful
SockPixie
whose colours I think would delight any age! These particular yarns are from her recent ocean series.
The patterns included in my Sewing for the Baby book are divided equally between knitting and crochet, and most of the patterns have both a knit and a crochet version.
One of my favorites is for
Knitted Shoes
that have a little flap like old-fashioned loafers.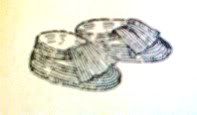 materials:
#3 needles, 2 sm buttons

gauge:
8 st and 10 rows to 1 inch
directions:
Starting at the sole, cast on 8 st and work in garter st (plain knitting) for 3 inches. Then dec 1 st at end of each row until 4 sts remain (toe). Bind off and set aside. For the upper, start at top, cast on 8 sts and work in garter st for 1 and ¼ inches. Dec 1 st at end of next 2 rows and bind off. Cast on 18 sts, pick up 12 sts across one long side of piece just completed, 8 sts across toe edge, and 12 sts across other long side, cast on 18 sts (68 sts). Work 1 inch strait in garter st. Bind off. Sew up back seam.
Place the upper against the sole and sew together with over-and-over stitches. For the strap, cast on 44 sts and k 4 rows. Next row: make a buttonhole 4 sts in from end by casting off 2 sts, and on next row cast back on 2 sts above those cast off. K 4 rows and bind off. To make the tongue, cast on 10 sts and work 1 inch in ribbing of p2 k2. Then work as follows:
1st row: *P 2, inc in next 2 sts. Repeat from * across ending with p2.
2nd row: *K 2, p 4. repeat from * across ending with k 2.
3rd row: *P 2, inc in next st, k2, inc in next st. Repeat across row ending with p2.
4th row: *K 2, p 6. Repeat* across ending with k 2.
Continue increasing thus every other row, always having 2 sts more between increases, until there are 8 sts in each stockinette section. Work strait until piece measures 2and ½ inches. K 4 rows and bind off.
Sew cast on edge of tongue to top edge of upper slipper, bring tongue over strap and fasten with snap. Sew button on strap.
~~~~~~~~~~~~
If you make these, please leave a comment and a link to your photo!