I took a trip to the Elegant Ewe to view the new books, A Stitch in Time, in all their beauty...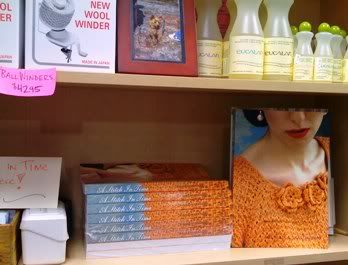 They have them on the shelves behind the counter, with one out on the counter for people to look through. The stack is quickly diminishing...both to local folks and to Ravelers calling or emailing or have one sent to them. The Elegant Ewe told me they are charging $6 for shipping within the US.
The very first copy was bought by a famous knitting person, Stitchy McYarnpants!
HERE
she is, looking very happy to have snagged a copy.
I've said it before, but it bears repeating - Arbour House Press and Knit on the Net did a fabulous job with the production of this book. The choice of patterns, the updated yarn, needle, and sizing information, the large and gorgeous photographs combined with original photos and illustrations from the 1930's, all perfect.