Yes, that's right. A baby boy is coming into our family. We're so excited and happy! Little Jule is going to have a little jewel of her own! That's why all my knitting has been preempted by baby-knitting. Yesterday, at a work meeting I just made a list of all the things I'm going to make while others were talking. I have a list for now and a list for later!
NOW:
1 silk bonnet (done)
3 vintage undershirts
2 sleeping buntings
1 buster brown booties
1 Baby Surprise jacket
3 diaper covers (done)
1 soft cotton blanket
LATER:
2 bear head blankets
1 hooded sweater
1 navy blue Navy coat
1 navy blue sailor pants
1 Dokumon pants
3 pairs socks (1 done)
2 cardigans (1 BSJ done)
2 hats (1 done)
In other news, my local yarn store had a sale last weekend and I had great fun browsing the shelves and chatting with the friendly staff. Here is a picture of the lovely Lori and Kelly showing their new shop aprons!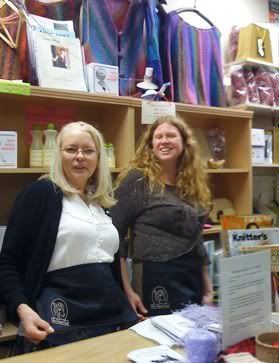 I was quite taken with the aprons and mentioned that they would be great for knitting - a place to put all the little tools you need for your project, as well as your center-pull ball of yarn. When I got home and opened by bag I found one nestled slyly under my sale yarn!! How nice is that!?!? I love my LYS - the Elegant Ewe.