I had an experience with Ravelry last week that really threw me; upset my knitting equilibrium. I joined my second swap on the Tea group, and was assigned my partner. And someone was assigned to send a box to me. I had lots of fun shopping for my designated box recipient. This is the most fun part of a swap - spoiling your partner with special gifts that they wouldn't get for themselves. We're supposed to spend about $40...
I assumed that the person sending to me was going through a similar process.
This is what I received: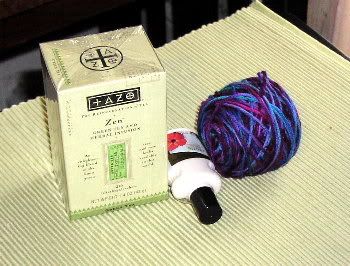 I was so hurt and started crying when I opened the box! For some reason, it seemed like I was unworthy of a "spoilage" swap box - that my swap sender had read my questionaire and decided "eh,". I couldn't get it out of my mind for days and even left the group that started the swap because I couldn't stand to see the wonderful swap boxes that other folks were getting - things like 2 skeins of silk lace weight yarn and Presentation Blossom teas!!
Several days have passed and I got a couple very nice messages from other people in the group. One person told me she had a similar experience a while ago and hadn't done any swaps since. I love to give gifts, (I'm going to be a swap angel for someone who didn't get their box in the last swap) so this will be hard for me, but I think I should not join any swaps again. I don't think I could go through this again...
meh, I shouldn't complain because I was thoroughly tea-and-knitting spoiled by my sister, my bf, and friends at Christmas time. Why do the assumptions of strangers affect us so much, when its those who are close to us who should matter most...